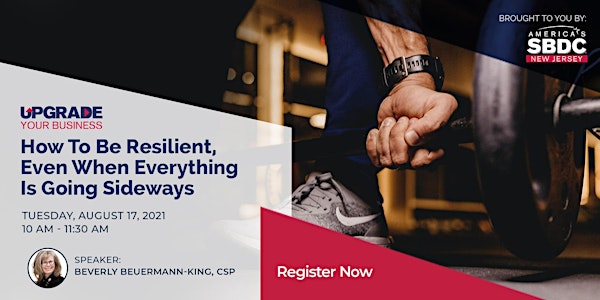 How To Be Resilient, Even When Everything Is Going Sideways
How To Be Resilient, Even When Everything Is Going Sideways
About this event
Part 3/5 of the Mental Health & Resilience Series:
If you believe that change is bad, it is. The more that we resist change the tougher our life becomes and the more detrimental it will be to our mental health. Research shows that being unprepared and resistant to change leads to an increase in chronic stress, symptoms such as headaches & back pain, increase in absenteeism and conflict, as well as a decrease in trust.
Discover with Beverly Beuermann-King how to move from overwhelmed and frustrated, to a place of RESILIENCY and HOPE. It Is more than just being optimistic about things getting better in the future. It is a way of thinking and behaving. By focusing on creating a unique personal action plan to reboot, re-energize and ignite your resiliency you will learn how even in the swirl of chaos we can find our own beacon of HOPE.
On this webinar you will:
1. Identify changes and challenges that are zapping energy and negatively impacting life, and putting you at risk for burnout and other mental health issues
2. Understand the different types of resiliency strategies that can be performed throughout your day to release stress, protect your mental health, and enable you to relax more and feel better
3. Generate actionable ideas to overcome challenges, restore energy, and gain more happiness
4. Learn how to utilize and boost Strategic Hope as a resiliency strategy using the S-O-S PrincipleTM to maintain energy, reach for adventure, acknowledge obstacles that been have overcome, find positive mentors, and practice gratitude
5. Reflect on how they can be a beacon of hope and share gratitude with someone who has been that beacon for them