How To Be Proactive With Property Management?
About this Event
How To Be Proactive With Property Management So That Your Apartment Doesn't Suffer From An Avalanche Of Expenses.
As an apartment owner, your goal is to create cash flow and to maximize tax write offs. Now when it comes to maintaining the physical health of your apartment, you may take on property management yourself, or you may outsource this to a company. Regardless of who manages the property, ultimately you are the one who calls the shots. Of course, you have heard the saying, "You don't know what you don't know." So let me ask you, what direction is your property going in regards to being proactive with property management? What system(s) do you follow to limit deterioration of your asset? How often do you implement these strategies? Where do you get your knowledge on maintaining the healthy stability of your property?
Think about it, with your own body you get routine physicals because it serves as preventive maintenance because Doctors can catch early signs of negative things that can impact your health. By neglecting the Doctors, you could possibly be welcoming in severe illness or death. Your apartment building is no different! YOU MUST have proactive property management measures in place, so that your apartment doesn't go on "life support."
Here is my offer:
If you would like to pick up some tips and tricks, come to hear the presentation of "Proactive Property Management For The Continued Health Of The Building." This talk will be given by Susan Spott who is a 25 year veteran with performing building inspections and forensic building analysis. By attending you will:
1. Learn from the mistakes of others.
2. Know what best practices to follow to be on top of maintenance for the building.
Venue:
The event will be on September 17, 2019 at the San Leandro Senior Center. 13909 E 14th St, San Leandro, CA 94578. The time will be 7-8pm. When you come you will also be able to network with other investors that own apartments in the zip code of 94541.
About the speaker: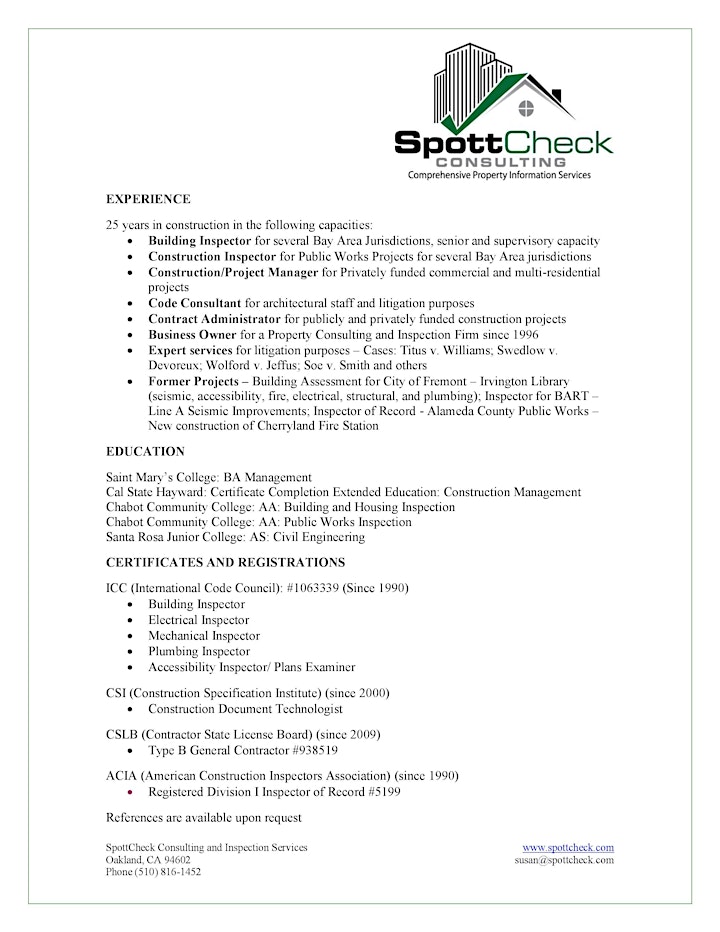 Good news, this is a free event. Bad news, only the first 40 people that register are allowed in.
Please visit our website: www.AoWisdom.com to know more about us.
FYI, this same letter is sent to over 300 other investors that own apartments inside zip code 94541. If you don't take action now, it is a high probability that you will not make the list of 40!

Sincerely,
Cordell Davenport
DRE: 02080033
415-697-1336
Cordell@SmallApartmentInvestors.com
PS. An ounce of prevention is worth a pound of cure!