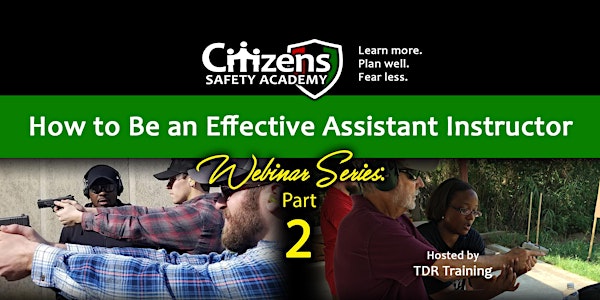 How to Be an Effective Assistant Instructor Part 2: The Range
Serving as an assistant instructor requires unique skills that are often taken for granted. How can we be effective in this essential role?
Refund Policy
Contact the organizer to request a refund.
Eventbrite's fee is nonrefundable.
About this event
The Webinar Series
Many people enjoy the limelight of being a lead firearms instructor, teaching at the front of a classroom and giving commands on the firing line. Equally important but less often recognized is the role of the assistant instructor. Being an effective assistant trainer requires more than just standing behind a row of shooters or loitering in the back of the classroom. How do you handle a nervous student? Or a student who doesn't follow directions? Or one who is unsafe, chatty, inattentive, physically compromised, or just plain terrified? What is the assistant instructor's role, and how is it different from the lead instructor, or the range safety officer, or the one-on-one coach?
In this three-part webinar series, the CSA crew explores some useful tips, skills, and best practices that elevate the A.I. from just another person hanging around to an indispensable part of the training team. CSA's Assistant Instructor training is specifically tailored to sharpen those skills that are unique to optimizing the A.I.'s role in the classroom and on the range, especially for new shooters and introductory to mid-level classes. The A.I.'s ultimate goals are (1) making the lead trainer's job easier and (2) making the students feel safe, comfortable, and welcome (all of which facilitates learning and retention).
Register for one, two, or all three webinars to learn best practices for assistant instructors both in the classroom and on the firing range. Kudos to Tim Reedy of TDR Training for hosting these virtual events!
Webinar Recordings
Busy on the day of the webinar? No worries! Each webinar will be recorded, and the recordings will be made available to all paid registrants until Tuesday night, February 14, 2023.
Effective Assistant Instructor Webinar Series Part 2:
Assistant Instructors on the Range
Tuesday, January 24, 2023
7pm CT (8pm ET; 5pm PT) - Runs 2 hours
$30 stand-alone webinar (or included in the 3-part series for $75)
Part 2 of our three-part webinar series is all about the role assistant instructors play during a range session. Topics include:
Defining the AI's role (distinguished from the lead trainer, co-trainers, coaches, and RSOs)
Safety, safety, safety
The Four Cs (communication, choreography, coverage, and control)
Checking your ego
Anticipating (and avoiding) problems before they arise
Effective, efficient communication techniques (trainer-to-trainer, and trainer-to-student)
Managing distractions and delays
Medical precautions and emergency procedures
Effective spatial management (positioning, blocking, alignment, environmental accommodations)
Reinforcing students' proprioception and kinesthetic awareness
Enforcing (and helping students habituate) safety rules – especially muzzle and trigger finger discipline
Firing line ingress and egress for hot and cold ranges
Firing line management (lane assignment factors, target placement, gear staging, etc.)
Managing shooters of different ages, maturity levels, motivations, and backgrounds
Managing physical limitations, psychological roadblocks
Appropriate types and amounts of individual coaching
Reinforcing the lead trainer's range commands
Intercepting errant firearms (as distinct from adversarial disarms)
And more!
Want More Webinars?
This is just one session of our three-part Effective Assistant Instructor series. Listed below are the links to the other parts of the series. You can purchase a ticket to any single webinar for $30. If you'd like to attend all three webinars, just select the Full Package ticket at checkout and get the whole series for only $75!
Who's Teaching?
Each webinar will be taught by Aqil Qadir and Tiffany Johnson of Citizens Safety Academy. Aqil is a former law enforcement officer with over 40 years of experience in firearms training. He founded CSA almost ten years ago and has been teaching thousands of private citizens a year ever since. Aq is an NRA Training Counselor and a USCCA instructor, as well as a Rangemaster-certified handgun and shotgun instructor (Master level). He also works as a federal security contractor, training armed professionals throughout the southeastern United States.
Tiffany is a "late bloomer" who underwent a 180-degree-conversion in the world of firearms. She grew up fearing guns but got hooked on firearms training after reluctantly enrolling in a Rangemaster handgun safety course. Tiffany is a Rangemaster-certified handgun and shotgun instructor (Master level), a USCCA Training Counselor, an NRA Training Counselor, a former university professor, and a practicing attorney.

Shout-Out to TDR Training!
Special thanks to the gang at TDR Training for hosting this webinar series! Don't forget to check out TDR Training's awesome line-up of training courses, follow Tim and the crew on social media, and pick up your very own TDR swag!