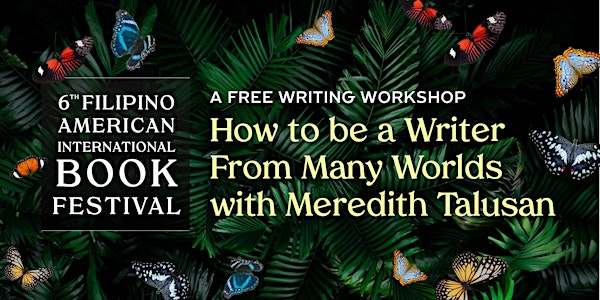 How to Be a Writer From Many Worlds: A Workshop w/ Meredith Talusan
A FREE writing workshop with acclaimed writer and journalist Meredith Talusan, author of FAIREST.
When and where
Location
San Francisco Public Library 100 Larkin Street San Francisco, CA 94102
About this event
Those of us with multiple and often conflicting identities have a tendency to struggle with which parts of us to tap into when we write, but it is out of these complexities that our voices can emerge. This workshop will begin with an open discussion of what it's like to write across identities, and proceed to remarks and exercises based on the needs and interests of workshop participants. Taught by Meredith Talusan, this workshop is part of the 6th Filipino American International Book Festival, in partnership with the Philippine Studies Department at City College of San Francisco.
Workshop location: Hormel LGBTQI+ Center, 3rd floor, San Francisco Main Library, 100 Larkin Street, San Francisco
ABOUT MEREDITH TALUSAN
Meredith Talusan is the author of Fairest (Viking Press, 2020), a widely praised memoir which Kirkus Reviews called, "captivatingly eloquent." It was excerpted in the New York Times, selected as a most anticipated book of 2020 by O: The Oprah Magazine, and is the People and In Style Magazine Pick for June. Meredith is founding executive editor of them., Condé Nast's first-ever platform devoted to the queer community. An award-winning journalist and author, Meredith has written features, essays, and opinion pieces for many publications including The Guardian, The New York Times, The Atlantic, VICE Magazine, WIRED, The Nation, Mic, BuzzFeed News, and The American Prospect. She is the recipient of the 2017 GLAAD Media Award for Outstanding Digital Journalism, and has contributed to many books, including the New York Times Bestselling Not That Bad: Dispatches from Rape Culture. You can find her online at @1demerith on Twitter and Instagram, or at mtalusan.com.
ABOUT THE 6TH FILIPINO AMERICAN INTERNATIONAL BOOK FESTIVAL
The 2022 festival features 2 days of panels, readings, book signings, children's and teens events, a marketplace and more, from Oct 15-16 at the SFPL Main Library . Founded by PAWA (Philippine American Writers and Artists), this unique festival celebrates Fil-Am writers, both emerging and established, as well as writers from the Philippines and the global diaspora. This year, our theme is "Hiraya/Emergence: Writing Towards the Future." "Hiraya" is a Tagalog word for imagination, for dreaming, the emergence of the flower and the fruit. The Filipino/a/x writing community has seen phenomenal growth in the past few years. Together we move towards the next in celebration of our literature, despite the uncertainty of current times. For more on the festival, visit filbookfestival.org