How Startups Can Survive and Thrive In A Post Pandemic Economy
About this event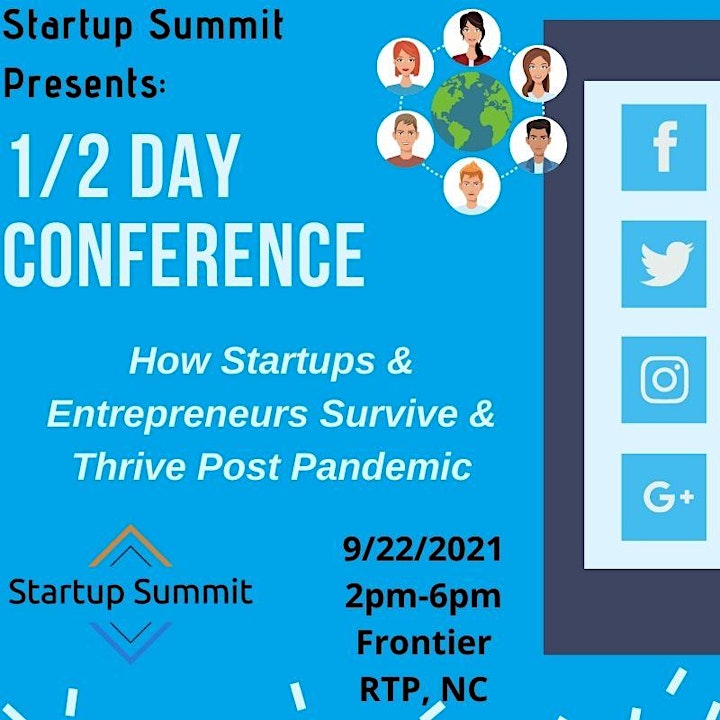 Event Protocols for COVID-19
-Following the Durham guidelines, face coverings are mandatory for all public and common areas regardless of vaccination status, unless eating or drinking
-If you forget your mask, we will have some onsite.
-Sanitizer and Disinfecting wipes will be stationed throughout the event for your convenience and comfort.
-RTP uses hospital grade cleaning supplies and will sanitize all AV equipment throughout the even
Come join the Startup Summit new in person conference: "How Startups Can Survive and Thrive In A Post Pandemic Economy"
Guess who's back? It's been over 20 months since we hosted an in person conference and it's time to bring us back together!
Startup Summit is super excited to officially launch our new half day conference on Wednesday September 22nd from 2-6 pm at the Frontier (Classroom and Atrium) in RTP! We have arranged the best leaders and experts from the area to help your startup grow and succeed in this new brave world! It's been a long time, and we're ready to bring our startup & entrepreneur community together for great keynotes, speakers, panels, and networking fun! Plus come meet investors like the members of RTP Capital!
Plus win some prizes like the Purebuds Earphones, books, and more!
Agenda:
1:30pm- Welcome refreshments, check-in, and networking
2-2:05:Welcome/Opening Remarks- Founders of Startup Summit: Mark Bavisotto & Keith Washo Plus special guest, Town Councilman Steve Rao
2:05-2:35: Main Keynote with Q&A (Introduction by Keith Washo)
Steve Malik, President of NC Courage and Founder of Greenlight Health and MedFusion.
2:40-3:10: How startup investment strategies have changed from the pandemic (Moderator: Mark Bavisotto)
Tobi Walter: Principal at Cofounders Capital
Karen LeVert: Venture Partner at Pappas Capital
Mark Friedman: President at RTP Capital
Keith Daniel: Managing Partner at Resilient Ventures
3:10-3:40: Break
3:45-4:15: Sales and Marketing Strategies In New Era (Moderator: Keith Washo)
Larry Long Jr: CEO of LLJR Enterprises
Grace Ueng: Founder and CEO of Savvy Growth
Peter Mollins, VP Marketing at Spreedly
4:25-5:00: Closing Keynote (Introduction by Steve Rao)
Omkar Nimbalkar, VP for Hybrid Cloud, IBM
5pm: Closing Remarks & Prize Giveaway- Mark Bavisotto & Keith Washo, Startup Summit Founders, Offering up Purebuds Earphones, books, and more!
5pm-6pm: Happy Hour: Enjoy a cold beer from BruePrint Brewing Company and some famous Carolina BBQ from Big Al's.
Consulting Corner Sponsor Tables:
HR Services: Marlana Bunn, Trinet
Financial: Lori Spivey, Financial Direction
Legal, Venus Liles, Liles Law
Startup Accounting, Brooks Malone, HPG
Staffing, Wayne Hippo, PSA Solutions
RTP Capital (Angel Investing Group)
Crowdfunding, Will McGuire, Incolo
Demo Table, Camden Conekin, Padeo
Demo Table, Dhiraj Peechara, DataQ
Demo Table, Jason Peoples, ProCap LVP Custom-Made Stair Tread Caps
Organizer of How Startups Can Survive and Thrive Moving Forward From Pandemic
Startup Summit is a learning platform that brings together entrepreneurs seeking advice, proven strategies, and the necessary connections to help grow their business for years to come. We actively educate, inspire, and connect thousands of founders from all over the state. We nurture our startup ecosystems through events, media, and partnerships with many organizations.