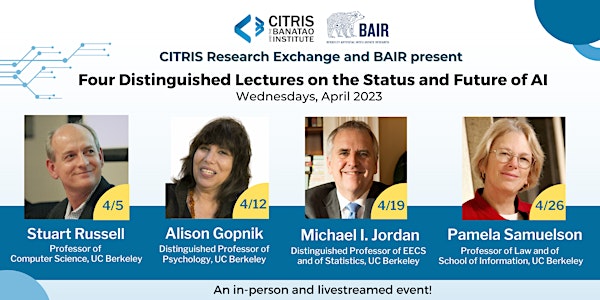 How Not To Destroy the World With AI - Stuart Russell
A Distinguished Lecture on the Status and Future of AI. Presented by CITRIS and the Banatao Institute and BAIR.
By CITRIS and the Banatao Institute
Date and time
Wednesday, April 5 · 12 - 1pm PDT
Location
Sutardja Dai Hall - Banatao Auditorium 2594 Hearst Avenue Berkeley, CA 94720
About this event
Speaker:
Stuart Russell, Professor of Computer Science, UC Berkeley
About Talk:
It is reasonable to expect that artificial intelligence (AI) capabilities will eventually exceed those of humans across a range of real-world decision-making scenarios. Should this be a cause for concern, as Alan Turing and others have suggested? Will we lose control over our future? Or will AI complement and augment human intelligence in beneficial ways? It turns out that both views are correct, but they are talking about completely different forms of AI. To achieve the positive outcome, a fundamental reorientation of the field is required. Instead of building systems that optimize arbitrary objectives, we need to learn how to build systems that will, in fact, be beneficial for us. Russell will argue that this is possible as well as necessary. The new approach to AI opens up many avenues for research and brings into sharp focus several questions at the foundations of moral philosophy.
About Speaker:
Stuart Russell, OBE, is a professor of computer science at the University of California, Berkeley, and an honorary fellow of Wadham College at the University of Oxford. He is a leading researcher in artificial intelligence and the author, with Peter Norvig, of "Artificial Intelligence: A Modern Approach," the standard text in the field. He has been active in arms control for nuclear and autonomous weapons. His latest book, "Human Compatible," addresses the long-term impact of AI on humanity.
About the Series:
The CITRIS Research Exchange and Berkeley Artificial Intelligence Research Lab (BAIR) present a distinguished speaker series exploring the recent breakthroughs of AI, its broader societal implications and its future potential. Each seminar takes place on Wednesdays from noon to 1:00 p.m. in the Banatao Auditorium at Sutardja Dai Hall on the UC Berkeley campus and will be livestreamed on YouTube. All talks are free and open to the public.
About the organizer
The Center for Information Technology Research in the Interest of Society and the Banatao Institute (CITRIS) creates information technology solutions for society's most pressing challenges.