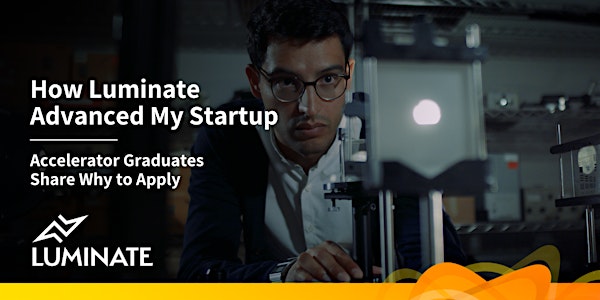 How Luminate Advanced My Startup: Accelerator Graduates Share Why to Apply
Luminate is now recruiting startups for cohort 6. Prior cohort members talk candidly about their experience in the accelerator.
About this event
Luminate is looking for its next cohort. Here's why your startup should apply.
Startups that are accepted into Luminate will receive an initial investment of up to $100,000 and begin a six-month program that culminates in a chance to compete for up to $2 million in follow-on funding.
This info session will provide a close look at Luminate and the advantages of participating — from the participant perspective. Register to learn how:
Startups in the Luminate portfolio advanced their technology and businesses through the accelerator.
Continued support helps to advance companies beyond their time in the six-month program.
To apply through an easy online application process.
Can't make the live info session? Register to receive a recording, and click here to see other sessions with Luminate.
SPEAKERS
Andy Simon, Director of Operations, Luminate
LUMINATE GRADUATES:
Alexander Igelmann
Co-Founder & CEO, LIDROTEC (cohort 5, $1M follow-on funding recipient)
Federico Acosta
CEO, Custom Surgical (cohort 5, $500K follow-on funding recipient)
Bárbara Buades, PhD
Co-Founder & CEO, MEETOPTICS (cohort 5, $125K follow-on-funding recipient)
Cara Wessels Wells, PhD
Founder & CEO, EmGenisys (cohort 5 regional participant)