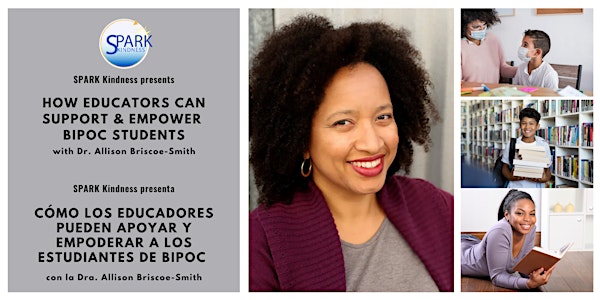 How Educators Can Support and Empower BIPOC Students
SPARK Kindness presents: A FREE online event for educators (for educators of Preschool - High School students)
About this event
Dr. Allison Briscoe-Smith on how educators and school leaders can support BIPOC children amidst racism, racialized violence and trauma.
Psychologist, author and acclaimed speaker Dr. Briscoe-Smith will present on how to create a school environment that promotes pride and affirms the identity of BIPOC students. Dr. Briscoe-Smith will also offer resources for engaging in conversation, addressing trauma and connecting with families of color.
Please note this session is for educators. SPARK Kindness is very excited to also be hosting a 2nd session at 7pm ET on how parents can support themselves and empower their BIPOC children amidst racism and trauma that is also FREE and available to all. Register and learn more about the 7pm program for parents/caregivers here: https://www.eventbrite.com/e/how-bipoc-families-can-support-themselves-and-their-children-tickets-137191428255
Simultaneous ASL and Spanish Language Interpretation will be provided at this event.
La Dra. Allison Briscoe-Smith presentara sobre cómo los educadores y los líderes escolares pueden apoyar a los niños de BIPOC en medio del racismo, la violencia racial y el trauma.
La psicóloga, autora y oradora aclamada, la Dra. Briscoe-Smith, presentará cómo crear un ambiente escolar que promueva el orgullo y afirme la identidad de los estudiantes de BIPOC. La Dra. Briscoe-Smith también ofrecerá recursos para entablar una conversación, abordar el trauma y conectarse con familias de color.
Tenga en cuenta que esta sesión es para educadores. SPARK Kindness también está muy emocionado de organizar una segunda sesión a las 7 p.m. ET sobre cómo los padres pueden apoyarse a sí mismos e inspirar a sus hijos de BIPOC en medio del racismo y el trauma, y esta sesión también es GRATIS y está disponible para todos.
Regístrese y obtenga más información sobre el programa de las 7 p.m. aquí: https://www.eventbrite.com/e/how-bipoc-families-can-support-themselves-and-their-children-tickets-137191428255
En este evento se ofrecerá interpretación simultánea de lengua de señas americana y español.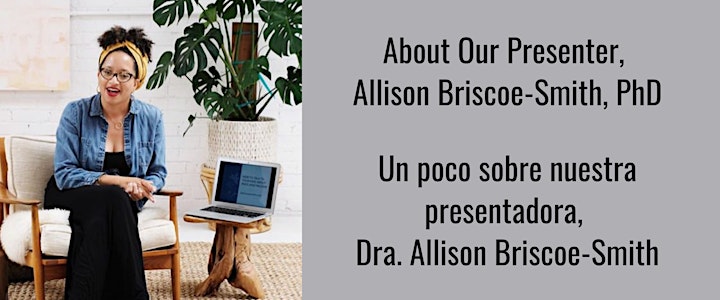 Dr. Briscoe-Smith earned her undergraduate degree from Harvard University. She then received her clinical psychology Ph.D. from University of California Berkeley. She then went on to continue her specialization in trauma and ethnic minority mental health through internship and postdoctoral work at University of California San Francisco/San Francisco General Hospital. She has combined her love of teaching and advocacy by serving as a professor and by directing mental health programs for children experiencing trauma, homelessness or foster care. Much of her work has been with schools, as a clinician, consultant and trainer. Currently she is the Director of Diversity, Equity and Inclusion at the Wright Institute where she is a professor. She provides consultation and training to bay area non profits and schools on how to support trauma informed practices and cultural accountability.
Learn more about our presenter at her website: http://www.drbriscoesmith.com
La Dra. Briscoe-Smith obtuvo su licenciatura en la Universidad de Harvard. Luego recibió su doctorado en psicología clínica de la Universidad de California Berkeley. Luego continuó su especialización en trauma y salud mental de minorías étnicas a través de pasantías y trabajos postdoctorales en la Universidad de California San Francisco/San Francisco General Hospital. Ella ha combinado su amor por la enseñanza y la defensoría sirviendo como profesora y dirigiendo programas de salud mental para niños que experimentan traumas, falta de vivienda o cuidados de crianza. Gran parte de su trabajo ha sido con las escuelas, como proveedora clínica, consultora e instructora. Actualmente es la Directora de Diversidad, Equidad e Inclusión en el Wright Institute (Instituto Wright) donde es profesora. Brinda asesoría y capacitación a escuelas y organizaciones sin fines de lucro de la región de la bahía sobre cómo fomentar las prácticas informadas sobre el trauma y la responsabilidad cultural.
Aprenda más sobre nuestra presentadora en su sitio web: http://www.drbriscoesmith.com
¡Muchas gracias a todos nuestros patrocinadores que ayudan a hacer posible este evento y toda nuestra programación!