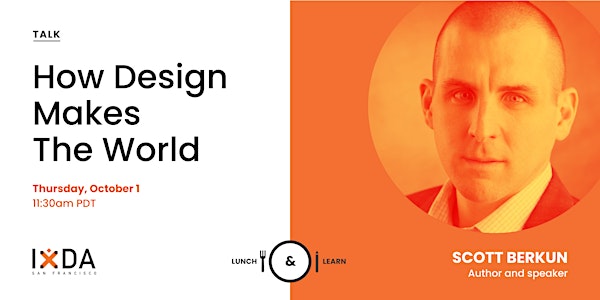 How Design Makes The World with Scott Berkun (+ networking)
Meet Scott Berkun, a bestselling author and popular speaker, to learn powerful stories to explain why designers' work matters.
Refund Policy
Contact the organizer to request a refund.
Eventbrite's fee is nonrefundable.
About this event
Do you wish more people understood good design and valued good designers? Or that your organization was more design mature?
Author Scott Berkun's new book, How Design Makes The World promises to teach all the non-designers out there how to appreciate good design and why it matters in their daily lives.
It also gives us designers inspiring new stories, and a resource we can give to coworkers, bosses and friends to help them understand and appreciate what we do. He'll share inspiring stories from the book and offer advice on how to make design more central to how your coworkers make decisions.
Agenda
11:30AM PDT Open Networking: meet other attendees 1:1 for several rounds of 5 minute discussions. Matching will be completely random!
12:00PM PDT Main Talk: meet Scott Berkun
Feel free to skip the networking part and join only the main talk!
Ticket fee waiver
We strive to make our events accessible and affordable to those who wish to attend but find cost to be a barrier. To submit an application to obtain a fee waiver please fill out the form.

Scott is a bestselling author and popular speaker on creativity, leading projects, culture, business and many other subjects. He's a former interaction designer and project manager who worked for many years at Microsoft and WordPress.com.
He's the author of eight books, including The Myths of Innovation, Confessions of a Public Speaker, and The Year Without Pants.
His work has appeared, in The New York Times, The Washington Post, Forbes, The Wall Street Journal, The Economist, The Guardian, Wired magazine, USA Today, Fast Company, National Public Radio, CNN, NPR, MSNBC and other media.
His popular blog is at scottberkun.com and he tweets at @berkun.
Join IxDA San Francisco and 5000+ UX leaders, designers, researchers and strategists!
Once you join, you are considered a member (we charge no membership fee – ever), and will get access to special announcements, event discounts, and more.