Join the Bentley University UXGA for a discussion on cognitive biases with Laurence Vagner and Stéphanie Walter of UX in Lux.
About this event
Thank you for attending!
---------------------
In this meetup we will discuss how cognitive biases impact our work, and strategies we can use to become aware of – and counteract – the effects they have on our lives.
The list of biases is long and hard to digest, so UX in Lux created a deck of 52 UX cards, organized in 5 categories.
Cognitive biases are psychological processes and tendencies that cause the human brain to draw incorrect conclusions. They impact everyone, even those who know they exist. As designers, they impact our daily jobs: they impact user interviews, user research, meetings with colleagues, and most human interactions we have.
---------------------
Hosted by the UXGA
The User Experience Graduate Association (UXGA) is an organization of graduate students from Bentley's Human Factors in Information Design (HFID) program. We are passionate about UX design and research and work throughout the year to bring professional resources and events to the HFID community. Learn more here: bentleygsa.com/uxga
---------------------
About Our Speakers
Stéphanie Walter is a senior UX designer and mobile expert. She teaches, speaks, and writes about her work. She enjoys good tea, bike rides, pixels & CSS, and her alignment is chaotic neutral.
Laurence Vagner is a senior UX/UI designer who is full of creativity, a bit geeky and a scientist, and enjoys knitting and pottery.
---------------------
Their Cards
52 UX Cards to Discover Cognitive Biases
https://stephaniewalter.design/blog/52-ux-cards-to-discover-cognitive-biases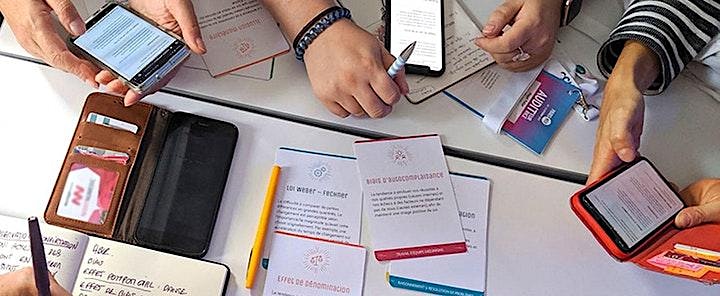 Cognitive biases are psychological thought mechanisms and tendencies that cause the human brain to draw incorrect conclusions. For better or worse, you can use them in many different ways to influence user behaviour in your products and services. These biases will also impact collaboration between team members and during meetings or might influencer your user research. Whether you are creating the user experience of an interfaces or purchasing something online, it's interesting to be aware of these biases.