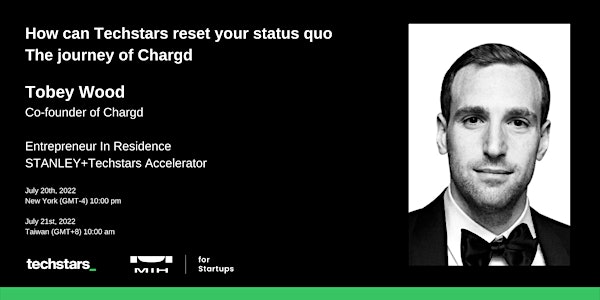 How Can Techstars Reset your Status Quo - The Journey of Chargd
Learn how Techstars brings startups to unexpected levels with a global network of entrepreneurs, mentors, investors, and corporate partners.
Date and time
Starts on Wednesday, July 20, 2022 · 7pm PDT
About this event
Entrepreneurs are the innovators who hold the keys to the greatest challenges of our time. They see something the world lacks - and make it, driving the society moving forward. However, the journey of being an entrepreneur is never easy. With the support of an innovative and strong ecosystem, Techstars can help entrepreneurs accelerate their goals.
Listen to Tobey Wood, co-founder of Chargd and EIR of 2022 STANLEY + Techstars Accelerator, sharing his founder journey and how he leverages Techstars' resources and worldwide network of entrepreneurs, mentors, investors, and corporate partners to reset the status quo and bring his startup to unexpected next level.
Reserve your spot today - limited slots available.
About Speaker: Tobey Wood
Tobey is an experienced EIR, VP-Strategy, advisor, operator, and investor.
Currently being the co-founder of Chargd and Entrepreneur-in-Residence working with Laila Partridge (MD) on the 2022 STANLEY + Techstars Accelerator, Tobey has worked in high-growth verticals and fast-paced industries, working alongside and advising C-Level executives and leadership across private and public markets. He has extensive experience leading strategy & strategic initiatives spanning M&A, innovation, R&D, partnerships, and more!
About Chargd
Chargd is a mobile application that enables sharing of home EV chargers in addition to accessing the public chargers, thereby creating the largest existing charging network. The technology connects car and charger, enables interactive experience, and allows users to perform data-driven optimizations.
Event Host: MIH for Startups powered by Techstars
MIH Consortium is Foxconn-initiated open electric vehicle (EV) ecosystem that promotes collaboration in the mobility industry. Our mission is to realize key technologies, and develop reference designs and standards, while we bridge the gap for alliance members resulting in a lower barrier to entry, accelerated innovation, and shorter development cycles.
Techstars is excited to be working with MIH to drive innovation with startups around the world. We believe in startups being the key to future EV innovation and it is our goal to together create innovative solutions for the next generation of EV, autonomous driving, and mobility service applications.
The "MIH for Startups powered by Techstars" program runs from July to November 2022. Techstars and MIH will collaborate to host 4 public masterclasses with Techstars Managing Directors and alumni founders to provide mobility topic sharing.
"MIH for Startups powered by Techstars" invites and encourages EV startups from around the world, whether it is an emerging electric vehicle brand, powertrain, energy management, autonomous driving, or other EV-related software and hardware, to participate in the 8-week global Founder Catalyst program, driving the future of the EV mobility industry. The program will provide up to 20 startups with valuable masterclasses, mentorship, community, and access to the Techstars worldwide network of entrepreneurs, mentors, investors, and corporate partners.
If you are a startup working on the below EV-related areas, we would love to have you join our "MIH for Startups powered by Techstars" program!
Electric Powertrain Systems
Battery and Energy Management
Light-weighting Technologies
Automotive Semiconductor
Automotive System Software and Digital Twin
Autonomous Driving
Smart Cockpit
If you would like to receive more information about public masterclasses and the program cohort, please sign up here.
Apply for the program here👉 https://www.mih-ev.org/startups/