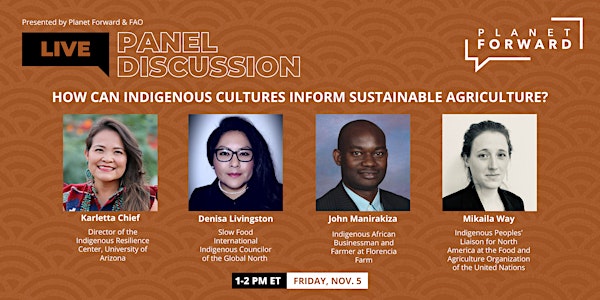 How can Indigenous cultures inform sustainable ag?
Planet Forward and FAO North America invite you to a panel discussion about how indigenous knowledge can guide sustainable food systems.
About this event
How can Indigenous knowledges of agriculture and resource management inform the creation of a sustainable food system for all? And how can non-Indigenous people listen and learn without burdening Indigenous communities with the responsibility to alleviate problems they didn't create? Join us via Zoom Webinar as panelists will explore these challenging and thought-provoking questions––and more––in this free event hosted by Planet Forward and the Food and Agricultural Organization of the United Nations.
The three accomplished speakers weighing will be:
Karletta Chief, director of the new Indigenous Resilience Center at the University of Arizona;
Denisa Livingston, Slow Food International Indigenous Councilor of the Global North and Food Justice Organizer of Diné Community Advocacy Alliance;
John Manirakiza, an Indigenous African businessman and farmer at Florencia Farms;
and Mikaila Way, Indigenous Peoples' Liaison for North America at the Food and Agriculture Organization of the United Nations.