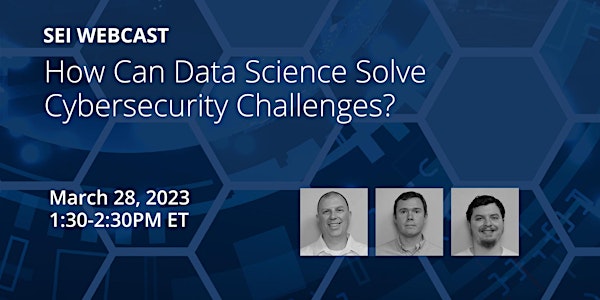 How Can Data Science Solve Cybersecurity Challenges?
This webcast will present and discuss approaches to using data science and machine learning to address cybersecurity challenges.
By Software Engineering Institute at Carnegie Mellon University
Date and time
Tuesday, March 28 · 10:30 - 11:30am PDT
About this event
In this talk, we will present and discuss approaches to using data science and machine learning to address cybersecurity challenges. We provide an overview of data science, including a discussion of what constitutes a good problem to solve with data science. We also discuss applying data science to cybersecurity challenges, highlighting specific challenges such as detecting advanced persistent threats (APTs), assessing risk and trust, determining the authenticity of digital content, and detecting deepfakes.  
What attendees will learn:
Basics of data science and what makes for a good data science problem
How data science techniques can be applied to cybersecurity
Ways to get started using data science to address cybersecurity challenges
Who should attend:
Technical management and leadership
Cybersecurity professionals
Cybersecurity researchers
Data scientists who wish learn more about applications of data science to cybersecurity challenges
About the Speakers
Dr. Thomas P. Scanlon is a Senior Research Scientist and Technical Manager in the CERT Division of the Software Engineering Institute (SEI) at Carnegie Mellon University. He leads the CERT Data Science technical program, which combines artificial intelligence, machine learning, and statistical analyses to develop solutions for cybersecurity challenges. Additionally, Scanlon performs applied research in the areas of software engineering, DevSecOps, cyber risk management, usability and human-computer interaction, threat modeling, and supply-chain security. Prior to joining the SEI, Scanlon worked for more than a decade in IT leadership roles with Fortune 500 companies.
Scanlon coauthored the DoD Developer's Guidebook for Software Assurance as part of sponsored research for the Join Federated Assurance Center (JFAC). He is a frequent speaker at conferences, including OSCON, (ISC)² Security Congress, and ACT-IAC Imagine Nation. Scanlon also regularly participates in webinars and podcasts.
Matthew Walsh is a Senior Data Scientist in the CERT Division at the SEI. His research focuses on applying econometric and statistical techniques to help Department of Defense clients analyze human resource management challenges related to talent management, workforce development, and retention. In addition, Walsh has studied applications of artificial intelligence and machine learning to military Command and Control. He received his PhD in Cognitive Psychology from Carnegie Mellon University, and his bachelor's degree in Psychology from the Pennsylvania State University.
Jeffrey Mellon is a Machine Learning Research Scientist in the CERT Division at the SEI. Prior to joining the SEI, Mellon spent several years tutoring students in mathematical and statistical courses with Chegg and the University of Pittsburgh.
Mellon began his career at the SEI in January 2019 with work based in computer vision and data smoothing. Since then, he has worked on creating data science training courses within the cybersecurity domain, solving problems related to natural language processing, and distinguishing fraudulent media from real media.
About the organizer
The SEI is a not-for-profit federally funded research and development center (FFRDC) at Carnegie Mellon University specifically established by the Department of Defense to focus on software and cybersecurity. We help government and industry organizations develop software-reliant systems that are more affordable and more agile, more reliable and more secure. We provide immediate and long-term integrated solutions via the strength of our workforce and focused research. The SEI is positioned to enhance impact, integration, and agility.