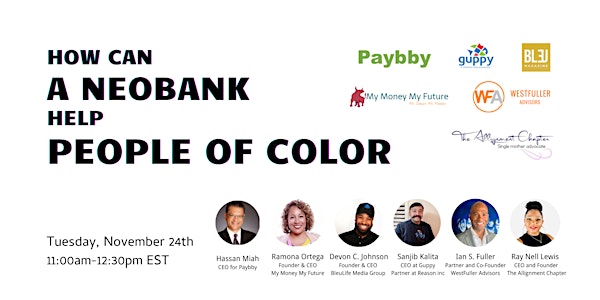 How Can A Neobank Help People of Color
The state of the black community in banking and how a neobank can help. Challenges of getting bank accounts...
About this event
The Black and Brown communities are the most UNDERBANKED and OVERCHARGED
More than 25% of U.S. households are unbanked or are underbanked
A staggering 86% of all underbanked U.S. households are people of color. (FDIC)
Many use high cost services like money orders, check cashing, international remittances and predatory lending (payday, refund anticipation, pawn shop, and auto title loans), costing in excess of $100B.
Why is there a large unbanked community?
According to recent FDIC survey, the reasons households are unbanked (respondents could select more than one):
53% Do not have enough money to keep in an account
30% Don't trust banks
28% Privacy Concerns
29% Bank account fees are too high
14% ID, credit or former bank account problems
13% Banks don't offer needed products or services
Speakers
Hassan Miah, CEO for Paybby
http://linkedin.com/in/hassanmiah
Founder and strategic adviser in technology, media, artificial intelligence, Blockchain and finance. Extensive international experience in China, Japan and Asia. Co-founder of Robin8, a social ecommerce AI platform in the US and China. Formerly Director of investments at Intel Capital, and a Management Consulting Partner at KPMG working on deals in entertainment and community banking. As CEO of Xing Technologies, launched the world's first MP3 consumer recording software that was later sold to Real Networks. BBA, University of Michigan, MBA, Stanford Graduate School of Business. CPA.
Ramona Ortega, Founder & CEO, My Money My Future
http://linkedin.com/in/ramonaortega
Experienced Founder with a demonstrated history of working in the financial services industry. Skilled in Nonprofit Organizations, Corporate Social Responsibility, Securities, Legal Writing, and Spanish. Strong business development professional with a J.D. focused in Corporate Law from Fordham University School of Law.
DéVon Christopher Johnson, Founder& CEO, BleuLife Media Group
https://www.linkedin.com/in/devon-christopher-johnson-73730447/
Johnson's, who holds a BA from Seton Hall University and a Master's from Harvard University, began his career in the music industry working in marketing and advertising roles for major record labels. His career began at Def Jam Records and moved on to Universal Music Group, Warner Music Group and Atlantic Records; collaborating on projects for artists like Jay-Z, LL Cool J, Mariah Carey, Trey Songz and Rihanna.
Sanjib Kalita, CEO at Guppy, Partner at Reason inc., Editor in Chief at Money20/20
https://www.linkedin.com/in/sanjibkalita/
For over 25 years, Sanjib has driven results in financial and technology companies large and small. He developed and led the execution of strategies that turned around a $5+ revenue business, delivering $1B incremental EBIT within 1 year. He helped large companies in multiple industries assess market changes and launch numerous products, delivering millions of new customers. Sanjib has also been part of startup leadership teams that have resulted in multiple 9-figure exits.
Ian S. Fuller, Partner and Co-Founder, WestFuller Advisors
https://www.linkedin.com/in/ian-s-fuller-b8809346/
Ian is a co-founder and partner of WestFuller Advisors, a financial and wealth management firm that provides advice, strategy, and investment management for values-aligned global individuals, families and institutions.
Ray Nell Jones, CEO and Founder, The Allignment Chapter
https://www.flow.page/theallignmentchapter
Ray Nell Jones founded The Allignment Chapter Corporation, a non-profit dedicated to single mothers in November 2019. Their mission is to help low income mothers make it through the month with basic necessities needed to wash their children, brush their teeth, and properly clean their clothes. They help low income single mothers and families in 22 states and 83 communities in need of emergency same-day assistance. They currently serve more than 700 single mothers.
Agenda
Welcome and introduce 11:00 am-11:15 am EST
Welcome by Hassan Miah and introduce Paybby
Panel 11:15 am-12:30 pm EST
- the state of the black community in banking
- challenges of the LatinX community getting bank accounts
- how a neobank help communities of color
- achieving social and economic justice in banking
About Paybby
A Public Benefit Challenger Bank built so people can pay less for banking, build wealth, and reduce dependence on the existing banking system.
Official website: https://paybby.com/
Twitter: https://twitter.com/Paybby1
Facebook group: https://www.facebook.com/groups/637502496964253
Facebook page: https://www.facebook.com/paybby/
LinkedIn: https://www.linkedin.com/company/paybby