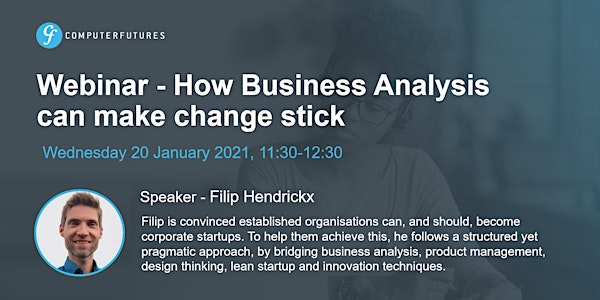 How Business Analysis can make change stick
Join this very first webinar/online talk on how can BA make change happen, and how to make it stick.
By Computer Futures Belgium
When and where
Date and time
Wednesday, January 20, 2021 · 2:30 - 3:30am PST
About this event
Change is everywhere. Every project we do is changing how people work or how customers interact with us. It's changing people. We're changing people. And people don't like change.
In a business analysis role, as a BA, PO, PM, process or UX expert ..., we are part of that change. We are making that change happen ... or not.
Yet, we're not change experts. So what can we do to make change happen, and to make it stick?
I believe we can do a lot. By looking at our analysis work through a change lens, we can initiate a better conversation, and co-create the change with the people around us.
Want to know how this works? Find out in this interactive talk and apply the practical learnings and tips yourself the next day. But beware: this talk may change the way you work...
Target audience:
Change makers: business analysts, functional analysts, product owners, product managers, project managers, UI, UX and CX designers, ... as all are involved in defining and implementing new ways of working for their colleagues and customers.
Webinar format:
Interactive online talk with Q&A - no preparation needed
About the speaker:
Filip Hendrickx is convinced established organisations can, and should, become corporate startups. To help them achieve this, he follows a structured yet pragmatic approach, by bridging business analysis, product management, design thinking, lean startup and innovation techniques.
His background of 10 years in business consulting and a prior 10 years in software engineering and research enable Filip to connect strategy and portfolio management with project execution and product development.
Together with Ian Richards, Filip is author of Brainy Glue, a business novel on business analysis and change.
As president of the IIBA Brussels Chapter, Filip helps support the BA profession and grow the BA community in and around Belgium.
You can read Filip's blog here and visit altershape page.
Schedule :
11:30 - Welcoming by Femke Snoeck , IT Business and Functional Analytics Recruitment Consultant at Computer Futures Belgium
11:35 - Speaker Filip - 'How BA can make change stick'
12:15 - Q&A
12:30 - Networking and closing