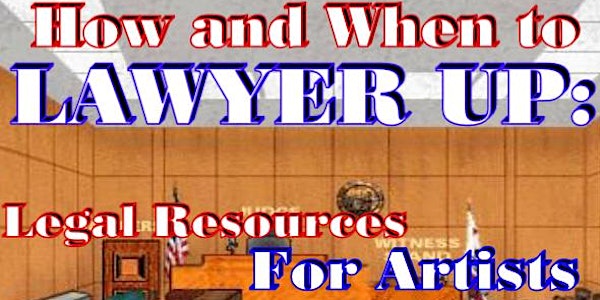 How and When to Lawyer Up: Legal Resources for Artists
Description
How and When to Lawyer Up: Legal Resources for Artists
Artist Naima Lowe has partnered with author/lawyer Sarah Lippek to offer a livestream workshop on legal considerations for artists, authors, performers and other creative professionals.
June 3, 7-8:30pm (Central Time!)
Tickets $5-$15
Proceeds go to Tulsa, OK based artists relief projects.
As artists our work is essential to preserving, creating, and transmitting culture, and offering much needed comfort and commentary during turbulent times. However, too often we're undervalued, underpaid, exploited and treated as though we are expendable by the institutions that we contract with. One way to address this is to educate ourselves on the legal issues that impact our industry and develop a stronger understanding of how to access and utilize legal resources.
During this 90 minute session we'll discuss our own experiences navigating legal systems, discuss common issues in art law, and offer guidance on how to actually find and hire the right lawyer. We'll take some time for questions and share links to organizations and information that can help you with your legal concerns.
Accessability:
We will include Live Captioning for this event, and all paid participants will receive access to a recording of the event as well as links all of the written materials that we share. We will be discussing legal matters and there may be some jargon involved, though we're committed to offering clear explanations and speaking as clearly and plainly as possible about the topic.
Financial Disclosure:
This project is supported by Tulsa, OK based art/event space OK#1. OK#1 offers a $300 stipend to cover artist fees, which in this case go towards the time to research and organize this event. The funds that we raise through ticket sales will go towards proving professional live-captioning. All additional proceeds will go towards Tulsa, OK based artist relief projects.
FAQs

Who is this event for?
We've designed this workshop specifically for artists, including visual, performing, and literary artists. However, some of the information will be applicable to anyone who works on a contract basis and/or works within the arts or entertainment field.
Do I need to have a computer to attend this event? We're using ZOOM for this event, which allows you to log in from your computer, tablet or Smartphone.
How do I log in? Once we've received your registration with your valid email address, we'll be in touch with log in instructions.

Will the event be recorded? Yes, we'll record the workshop and make the file available to registered participants after the fact.

What's the refund policy?We do not offer refunds for this event.

Can you help me with my specific legal problems?
This workshop is designed to answer general questions about legal concerns, and we'll do our best to point you in the right direction. However, Sarah is not representing you and any insight she provides is for educational purposes only.