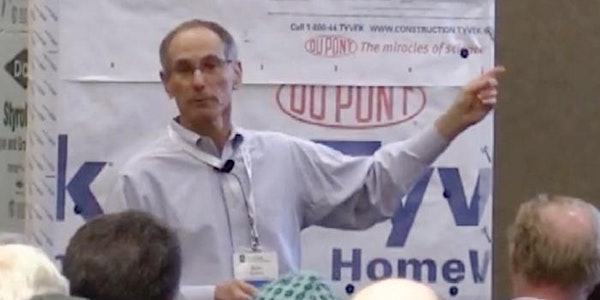 Housing disruption realities, crises, and transformations: are you ready?
Learn about housing disruption realities, crises, and transformations.
Refund Policy
Contact the organizer to request a refund.
About this event
DESCRIPTION
Virtually every major industry has experienced, or is in the process of experiencing, massive disruption. Housing has been able to sit on the sidelines with its first-cost dominated business model and uniquely disaggregated industry, but not for much longer. That's because there are three new realities setting the stage for disruption, five crises making disruption an imperative, and four transformations that will drive disruption in an industry totally resistant to change. Within this larger disruption context, high performance homes will play an increasingly critical role that needs to be fully integrated. Will you be ready? (webinar recorded February 14, 2019 )
AS A RESULT OF THIS WEBINAR, YOU WILL BE ABLE TO:
Identify three new realities are setting the stage for housing disruption.
Recognize what five crises are creating an imperative for housing disruption.
Learn what four transformations will drive housing disruption.
Learn why and how to integrate high-performance homes in this new tsunami of change for the housing industry.
COST
Free to view
Pay $25.00 for credit
WHO SHOULD VIEW
Builders, remodelers, HVAC contractors, HVAC system designers, code officials, architects, home design professionals, building performance professionals, energy auditors, students, educators, apprentices and anyone with interest in housing.
CREDITS
In order to receive credit for viewing this webinar, you'll need to pass a short quiz. A link to the quiz will be provided in your registration confirmation email. Separate registration is required for each individual requiring continuing education credit. Be aware that many accrediting agencies will not allow you to take the same course for credit more than once; therefore, if you attended this session at the conference you may not be able to receive credit for viewing the webinar.
All credits have different expiration dates, so it is to your advantage to take the quiz as soon as possible.
AIA Members of the American Institute of Architects will receive 1.25 LUs for this computer based course. This course and expires 1.17.2022. Questions about AIA credits should be directed to Lonna Berg at 608.210.7157 or lberg@slipstreaminc.org. Click on the following link to read our AIA CES Provider statement: https://slipstreaminc.org/solutions/education-and-training/aia-ces.
BPI This webinar has been pre-approved for 0.63 BPI CEUs.
NARI This webinar is approved for 1.25 NARI CEUs.
RESNET This webinar has been approved by RESNET for 1.25 professional development credits.
WI-DSPS Wisconsin Department of Safety and Professional Services has approved this course for 1 CEU for the following credentials: Dwelling Contractor Qualifier Certification and UDC-Construction Inspector Certification. Note that you may not retake the same course for credit more than once during the 1-, 2- or 4-year term of your specific credential.
This course will not be pre-approved for GBCI credits; however, if you believe the content is applicable to your credential, you can self-report credits.
SPEAKER
Sam Rashkin , Department of Energy
Sam is the author of the book titled "Retooling the U.S. Housing Industry: How It Got Here, Why It's Broken, and How to Fix It" that presents a comprehensive strategy for transforming the new homebuyer consumer experience. Sam brings the lessons from this book to housing executives across the country with workshops and collaborative meetings that help them accelerate innovation. Apart from this work, Sam has earned a national reputation for his work leading housing programs that have partnered with thousands of home builders and resulted in over one million certified high performance homes.

OTHER INFORMATION
This webinar was recorded on February 14, 2019 and is approximately 73 minutes in length.
Please see our FAQ page, call 608.210.7114 or email our registration contact: registration@slipstreaminc.org.