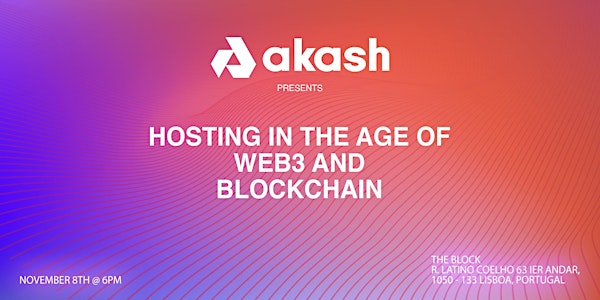 Hosting in the Age of Web3 and Blockchain
Hosting in the age of blockchain and Web3
When and where
Location
The Block Lisboa 63 Rua Latino Coelho 1er Andar 1050-133 Lisboa Portugal
About this event
Talk Overview
Tonight we will take a practical look at how blockchain technologies enable a new generation of web hosting technologies. We will take these concepts from abstract to reality as we deploy a website on a distributed cloud. 
We'll also hear from Alex Cheng from Tendermint on who's developing what and the various organizations building the cosmos ecosystem.
About our Speakers
Eric Zietlow - Director of Dev Rel, Akash Network
From distributed databases, kubernetes and blockchain, decentralized and distributed systems have been a passion of mine for the better part of a decade. I now have the opportunity to share my passion through my role as a developer advocate at overclock.
Alex Cheng - Technical Product Manager, Tendermint
Alex manages new chain integrations into Emeris, new pool creations on GravityDEX, the upcoming DEX aggregation within Emeris, and the upcoming Emeris Mobile App.
About Akash Network:
Akash Network, the world's first decentralized and open-source cloud, accelerates deployment, scale, efficiency and price performance for high-growth industries like blockchain and machine learning/AI.