Description

Organized by: San Diego Center for Systems Biology (SDCSB), FluOMICs Consortium, and FluDyNeMo
Co-sponsored by Program Project for the study of Innate Immune Responses and Vaccines Against Tumor-Associated Herpesviruses (P01CA177322 NIH/NCI; Ren Sun (PI))
---
Elucidating the molecular mechanisms that govern host-pathogen interactions is a subject of intense research in the field of infectious disease. National and local thought leaders will discuss current gaps in our understanding of how pathogens manage to evade host immune surveillance and establish acute and chronic infection states.
The 2nd Annual Systems Biology and Host-Pathogen Interactions Symposium is FREE to attend, but registration is required for all attendees. A limited number of travel grants will be awarded.
Poster Session:
We encourage abstract submission for posters; four authors will be selected to speak about their work at the symposium. Abstracts must include:
Poster title (up to 150 characters including spaces).

Author's full name and affiliation.

Text only abstract (limit of 250 words).
Travel Grants:
Students and postdoctoral fellows are also encouraged to apply for a travel grant. Please click here for the Travel Grant Application Form. Travel Grant is for maximum of $750.
Please submit all poster abstracts and travel grant applications to Crystal Herndon at cherndon@sanfordburnham.org; the submission deadline is December 14, 2015.

Driving Directions and Parking:

The Sanford Consortium for Regenerative Medicine is located at 2880 Torrey Pines Scenic Drive, La Jolla, CA 92037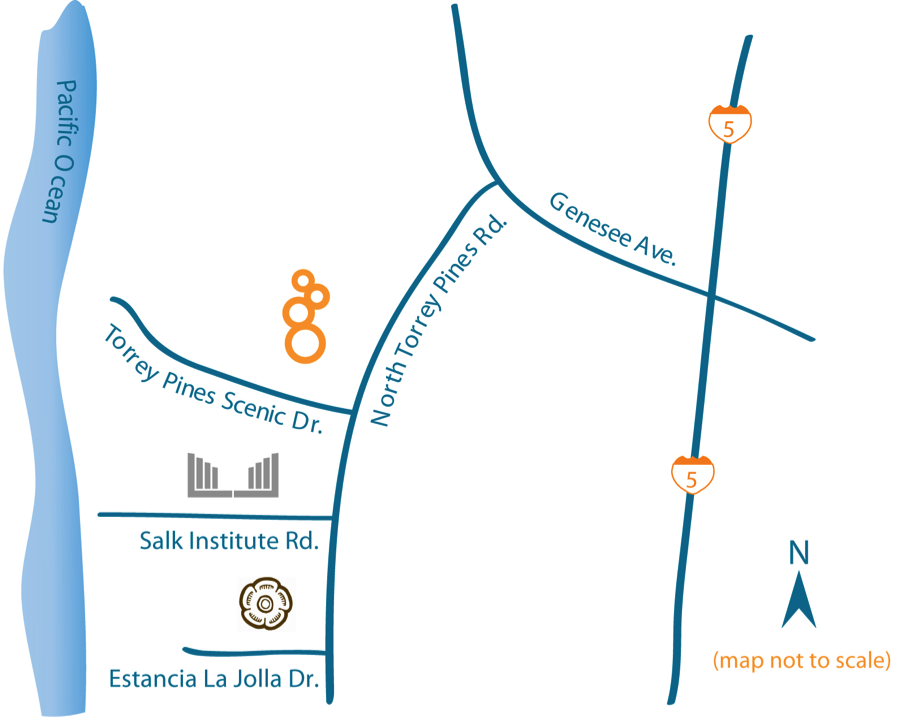 From the I-5 north or south, exit Genesee. Turn West on Genesee and turn left on North Torrey Pines Road at the light. Turn right at the second light onto Torrey Pines Scenic Drive.
From route 101 from Del Mar and other coastal locations north. Turn right at the light after Scripps Green Hospital to stay on Torrey Pines Drive after Scripps Green Hospital and Scripps Research Institute. Turn right at the second light onto Torrey Pines Scenic Drive.
Parking:
Event guests must park in the West parking lot. Signs will be placed directing you to the appropriate lot and the appropriate spaces within that lot.
Schedule
25 minutes for talks + 5 minutes for questions
9:00 AM
Breakfast and Registration
9:30 AM
Welcome and Introduction
9:45 AM
Dr. Bert Semler
Professor, Microbiology & Molecular Genetics
University of California, Irvine
Viral strategies to hijack and alter host cell functions during picornavirus replication

10:15 AM
Dr. Eva Harris
Professor, Division of Infectious Diseases and Vaccinology
University of California, Berkeley
Mechanisms of dengue virus NS1-induced endothelial permeability and vascular leak

10:45 AM
Coffee break
11:00 AM
Dr. Yingyao Zhou (short talk)
Director of Informatics & IT
Genomics Institute of the Novartis Research Foundation
Introducing Metascape – A Meta-Analysis Resource for Everyone
11:15 AM
Dr. Ivan Marazzi
Assistant Professor Microbiology
Icahn School of Medicine at Mount Sinai
Epigenetic and proteostatic mechanisms controlling viral infection
11:45 AM
Dr. Rafick-Pierre Sekaly
Professor, Department of Pathology
Case Western Reserve University
Systems approaches to decipher protective and harmful innate immune responses
12:15 PM
Lunch
1:15 PM
Student/Post-Doc Talks - Stephen Soonthornvacharin

1:30 PM
Dr. Stuart Sealfon
Professor of Neurobiology, Pharmacology and Systems Therapeutics
Icahn School of Medicine at Mount Sinai
Dendritic cell responses to virus infection
2:00 PM
Dr. Daniel DiMaio
Professor of Genetics and Molecular Biophysics and Biochemistry and Therapeutic Radiology
Yale University School of Medicine
Molecular mechanisms of human papillomavirus entry
2:30 PM
Coffee break
2:45 PM
Student/Post-Doc Talks- Lauren Aguado
3:00 PM
Dr. Sean Whelan
Professor of Microbiology and Immunobiology
Harvard Medical School
Structure, function and inhibition of large proteins of negative-sense RNA viruses – single polypeptide chains that catalyze every step of mRNAtranscription

3:30 PM
Dr.

Eva Friebertshäuser
Professor, Institute of Virology
Philipps-University Marburg
Activation of influenza viruses by host cell proteases in the airway epithelium
4:00 PM
Dr. Victor Nizet
Professor & Vice Chair for Research, Department of Pediatrics
Professor of Pharmacy & Pharmaceutical Sciences
Chief, Division of Host-Microbe Systems & Therapeutics
University of California, San Diego
Inflammasome-independent IL-1β-mediated innate immunity to an invasive bacterial pathogen
4:30 PM
Posters Session/Cocktail Reception
Organizer of Host-Pathogen Interactions: Circuits to Systems Symposium