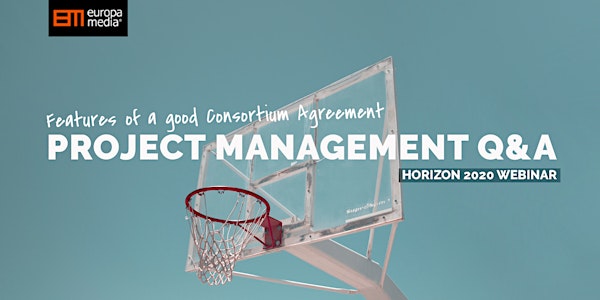 Horizon 2020 webinar Project Management FAQ: Features of a good Consortium Agreement
Description
Mini-workshop on how to deal with problems and challenges while managing a Horizon 2020 project with the support of a well-tailored Consortium Agreement.
During this one hour webinar, Gabriella will introduce 5 specific cases where a tailored DESCA agreement can help you solving certain PM situations in a quick, smooth way.
Send us your questions and let's discuss together.
Registration is open! Please be aware that the number of questions and participants is limited, so register early to avoid disappointment.
Don't forget to submit your question after registration!
Send them to karen.bengtsson@europamedia.org or to our Facebook page
Gabriella will respond to your questions: she is the Managing Director of Europa Media. She started developing EU projects in 2000, during her studies. She coordinated her first project (FP6) between 2005 and 2007. Over the past 17 years, Gabriella has managed and coordinated EU-funded projects under a broad range of EU programmes. Thanks to her direct involvement in developing and implementing projects under these programmes, she has gained extensive knowledge of the EU funding system and has thus contributed to a variety of publications, articles and online platforms sharing practical information and know-how on EU funds and projects.
In addition to developing and managing EU-funded projects, she has been an evaluator of proposals under COSME and H2020 programmes, as well as an appraisal and monitoring agent for the European Economic Area and Norwegian Financial Mechanism Grants. She holds a Master of Science degree in Economics, having specialized in management consulting and European business. Her main areas of focus are on SME development and ICT-supported learning, game-based learning.
Sign up and show up: Monday, 3 June 2019, at 12:00 CET
* Link to the webinar room will be sent to participants the day before the event.