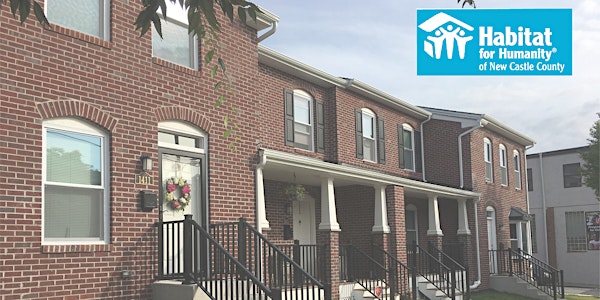 Homeownership Program Orientation Session
Get information on how you can own a home by partnering with Habitat for Humanity of New Castle County!
About this event
Habitat for Humanity of New Castle County (HFHNCC) has nine properties available for homeownership – six in the City of Wilmington; two in New Castle; and one in Middletown. Join our homeownership orientation session to learn specific details about what our homeownership program entails. Topics to be discussed in the orientation session include: HFHNCC partnership expectations; application processes, qualification information; etc. As the safety and well-being of our staff and patrons are very important to us during the COVID-19 pandemic, this orientation session will he hosted via Zoom. Please follow the steps below to ensure that you can participate in this session:
1. Await an email from our Family Services Director, Beverly Ward, inviting you to register for the session on our Eventbrite page. Click on the link provided in the email to register.
2. Register to attend the session via the Eventbrite post: Ensure you provide an email address that you currently have access to. Once you have successfully registered, Eventbrite will send you a confirmation email with a link to the online event page, which is synched to the Zoom meeting. Once the session has begun, the Join Now button will appear.
3. Save the date: Once you have received your confirmation email, we recommend saving the details of the session to a calendar with reminder notifications. Eventbrite will also send you a reminder a few hours before the event is scheduled to begin.
4. Ensure that you have access to one of the following devices on the day of the session:
•Computer: Windows or Apple computer with speakers and a microphone. (Note: Webcams are recommended but not required.)
•Mobile Device: iOS or Android.
•Phone: Mobile device, desk, or landline. Please email familyservices@habitatncc.org if you require the dial-in information for this session.
•Click here for instructions on how to join a Zoom meeting, specific to the device you will be using.
Please note: downloading the Zoom app is not required.
5. Join the Zoom meeting: Access to this event requires you to be logged in to Eventbrite using the email you registered with. Log in to your Eventbrite account and click the 'Join Now' button on the 'Online Event Page' to join the session. Participants will be admitted to the virtual meeting room no earlier than 5 minutes before the start of the session and no later than 5 minutes after the session has begun. Eventbrite will also send you an email notifying you that the session has begun with a link to access the event.
If you have any questions , comments or concerns, please contact us.
Habitat for Humanity of New Castle County
Family Services Department
familyservices@habitatncc.org