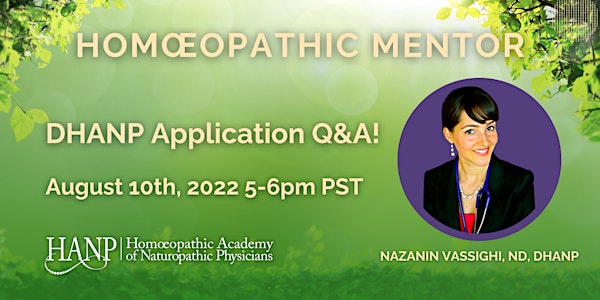 Homeopathic Mentor - DHANP Application Q&A
Dr. Naz Vassighi will answer any DHANP Application questions that you may have! Application deadline is Sept. 1st annually!
About this event
The Homeopathic Academy of Naturopathic Physicians (HANP) was founded and incorporated in in 1981 (Oregon) for the purpose of promoting excellence in the practice of homeopathy among naturopathic physicians. The HANP grants Diplomate (advanced specialty) status (DHANP) to naturopathic physician applicants who meet the prerequisites and successfully demonstrate competency through case submission and an oral interview. Diplomates of the profession establish and uphold specialist standards, provide education and mentorship, and are committed to protect and preserve homeopathy as a core therapeutic modality within the naturopathic profession.
To find out more information about applying for your DHANP, please visit https://hanp.net/dhanp-certification/
Benefits of DHANP Credential
World expertise status as a homeopathic practitioner
Addition to DHANP Directory
Teaching and publishing opportunities
Supporting quality standards of homeopathy
Discounts on continuing education
Candidates for DHANP by the HANP
A naturopathic doctor currently licensed in the USA or Canada. A photocopy of the naturopathic medical license will be requested.
Be a HANP Professional Associate Member in good standing.
Applicants must have practiced homœopathy for a minimum of 3 years post-graduation and treated a minimum of 100 new patients.
Applicants must have accumulated a minimum of 350 hours of homeopathic education credits and provide documentation with the application.
The 350 hours must include the DHANP Core Curriculum.
The HANP highly recommends that you complete the DHANP Core Curriculum prior to submitting your application that includes your case submissions.
Documentation for courses includes either signed and dated certificates or letters of completion.
Official school transcript.
Applicants must submit a current curriculum vitae.
Applicants must submit 2 letters of reference: one professional and one from a DHANP in good standing (see guidelines for recommendation letters.)
Applicant must submit an online application (we will email a link) and pay the application fee (below).
Your application expires after one year.
You must submit a minimum of five cases (two acute, two chronic, one failed case) or up to as many cases of your own work that are of a quality suitable for publication as are necessary to demonstrate all of the required competencies listed in the competency requirements.
The deadline for case submission is September 1st annually.
An oral examination will be conducted after the submitted cases has been evaluated.