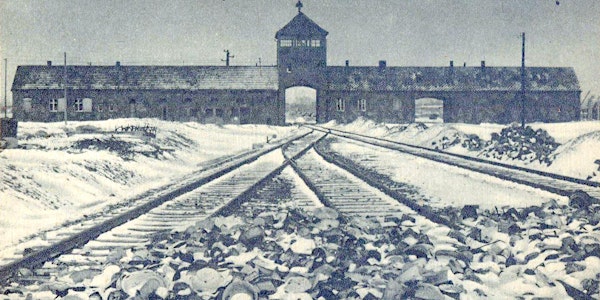 Holocaust and Genocide Educator Workshop, Spring 2023
Entering Auschwitz and Approaching its Artifacts: A Virtual Tour and Discussion
By Gross Center for Holocaust and Genocide Studies
Date and time
Monday, May 8 · 8:15am - 3pm EDT
Location
Ramapo College of New Jersey 505 Ramapo Valley Road Mahwah, NJ 07430
About this event
6 hours 45 minutes

Mobile eTicket
Entering Auschwitz and Approaching its Artifacts: A Virtual Tour and Discussion
This workshop is open to all teachers and educators, particularly those working in schools and those responsible for teaching the histories of the Holocaust and genocide.
There is no cost to participate. Breakfast, lunch, and coffee will be served.
Email holgen@ramapo.edu with any questions.
Schedule
8:15 – 9:00 // Registration and Breakfast
9:00 – 9:15 // Director's Welcoming Remarks
9:30 – 12:00 // Virtual Tour of Auschwitz
12:00 – 1:00 // Lunch and Time for Reflection
1:00 – 1:20 // Group Debriefing
1:20 – 2:45 // Artifact Centered Pedagogy Discussion
2:45 – 3:00 // Closing Remarks, Dr. Jacob Ari Labendz
3:15 – 3:45 // Optional Tour of the Gross Center Facilities
Virtual Tour
Picture of Birkenau after liberationThe Auschwitz Virtual Tour entails regular online sessions about the former Auschwitz-Birkenau death camp. But this is not a regular webinar or seminar. In fact, it is the most faithful representation of a physical visit to the Auschwitz memorial site. The delivery is significantly augmented by historical footage, histories of former prisoners, visualizations, aerial overviews, and contemporary filming. Thanks to the use of virtual reality tools officially created by the Auschwitz-Birkenau State Museum, we are able to reach every single spot and space at the memorial site.
I tell the story of Auschwitz live. The educator – I myself – is with you all the time. You can ask questions; you can dialogue with me. The virtual tour is planned for a maximum of 40 people in one session. It will not be recorded or made public. It will not be done in the form of a typical webinar where the participants, as a rule, cannot see each other and their interaction with the teacher is limited to a Q&A. I would like these sessions to be, in a sense, private, intimate meetings during which all participants can see each other in a virtual space, can ask questions and discuss important issues regarding Auschwitz.
Our Guide
Headshot of man with goatieJerzy Wójcik – born in the town of Oświęcim (Auschwitz), Poland. Graduate of the International Relations as well as Middle and Far East programs at the Jagiellonian University in Krakow, he was, in 2010, awarded a PhD in political science. Recipient of scholarships from the Florentyna Kogutowska Fund at the Jagiellonian University and from the State of Israel as a Research Fellow at Tel Aviv University. For a number of years, he has been working with several organizations and institutions in Poland: among others, the Auschwitz-Birkenau State Museum, the Jagiellonian University Center for Holocaust Studies in Krakow, the Center for International Relations in Warsaw, and the European Association of Israel Studies. Since 2015 he has run the Holocaust Memorial Partnership. He has been to Israel over 20 times. (The text of this and the preceding section has been copied and adapted from websites created by the tour guide and their associates.)
Artifact-Centered Pedagogy Discussion
Led by Colleen Tambuscio and Heather Lutz
During the afternoon session, participants will have opportunities to probe the expressive ways in which objects quietly but clearly speak as bearers of witness and the pedagogical promises of using artifacts and virtual tours in academic settings. These activities will be collaborative and reflective, inviting participants to interrogate a variety of texts (i.e. photographs and poetry) and to brainstorm how these types of interactive and tactile experiences can translate to their respective classrooms. Participants will also preview the new curriculum from the New Jersey Commission on Holocaust Education, with a focus on aspects of it that feature artifacts and their narratives.
Colleen Tambuscio
Colleen Tambuscio is a long time special education and general education teacher who has been involved in Holocaust and genocide education for decades. She began her career teaching the deaf for Bergen County Special Services and first taught Holocaust education to her deaf students. Currently, she teaches at New Milford High School in northern New Jersey. During her teaching career, she developed a semester-long Holocaust course and annually travels to the U. S. Holocaust Memorial Museum (USHMM) for a two-day seminar with students. Since 1998, she has taken students to Germany, Czech Republic and Poland to study the Holocaust.
In 1998, Colleen was named a Mandel Fellow at the USHMM, where she is currently Teacher Fellow. She has served as a USHMM Regional Museum Educator since 2002. Since 2002, Colleen has been a board member of the Gross Center for Holocaust and Genocide Education at Ramapo College of New Jersey. Colleen earned an MA in Jewish-Christian Studies and Holocaust Education from Seton Hall University in 2006. She is the founder and President of the New Jersey Council of Holocaust Educators, a national professional development organization for educators interested in teaching the Holocaust and genocide. In 2015, Colleen worked with author Alexandra Zapruder of Salvaged Pages: Young Writers' Diaries of the Holocaust, to create a multimedia edition of the book and lessons associated with the diaries which are housed on the Facing History and Ourselves website. Colleen was honored by Princeton University in 2017 as a Distinguished New Jersey Secondary Teacher. In October of 2021, she was appointed by Governor Murphy to the New Jersey Commission on Holocaust Education.
Heather Lutz
Heather Lutz is the granddaughter of Holocaust survivors and an experienced educator who has built a robust full-year Holocaust course within the English department at Pascack Hills High School. She is a Teacher Fellow at the United States Holocaust Memorial Museum, an Alfred Lerner Fellow through the Jewish Foundation for the Righteous, a Teacher Consultant for Drew Writing Project, and part of a small cadre of teachers revising the curriculum for the New Jersey Commission on Holocaust Education. In addition to her work within the field of Holocaust education, Heather has become an established voice on artifactual literacies, the material culture of Holocaust remembrance, and descendant legacies, and she is currently writing her doctoral dissertation with a keen focus on these themes. Heather regularly presents at national scholars' conferences and is a contributor to a forthcoming collection of essays on Jewish women's graphic novels under contract with Wayne State University Press.