HISTORY AFTER HOURS: Talk and Book Signing with Authors Kellen Diamanti and...
Description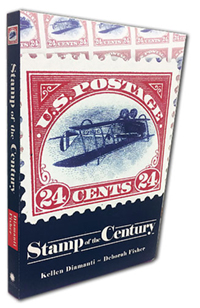 Join us for an evening talk with Kellen Diamanti and Deborah Fisher, authors of Stamp of the Century (American Philatelic Society).
The Post Office Department inaugurated regularly scheduled airmail service on May 15, 1918 and issued a special 24 cent bi-color stamp to commemorate the occasion. Production technology at the time was prone to error for stamps with more than one color -- a known fact by many stamp collectors. William T. Robey was one such collector who was hoping to encounter an erroneous stamp. Luck turned out to be with Mr. Robey that first day of issue, and he became the owner of the only misprinted sheet of 100 stamps, which would become one of the world's most famous printing errors the "Inverted Jenny."
Inspired by the upcoming 100th anniversary of Robey's famous purchase, authors Kellen Diamanti and Deborah Fisher have conceived a work of creative non-fiction that places the stamps on the continuum of history. Following the stories of Inverted Jenny owners, the stamp can take the reader as far back as the presidency of George Washington. To update the Inverted Jenny story, Diamanti and Fisher have conducted dozens of contemporary interviews with collectors who own copies of the stamp today, dealers who have handled multiple sales, and experts who have spent a lifetime studying it.
A book signing with Ms. Diamanti and Ms. Fisher will follow the talk, and their publication Stamp of the Century will be available for purchase at the Museum Store.
---

Doors open to the public at 6:00 pm; complimentary bar and light refreshments provided. The talk starts at 6:20 pm.