Sales Have Ended
Ticket sales have ended
Welcome to the Hirshberg Entrepreneurship Institute! We will email you 2 weeks before the event with more information. If you have any questions, please email info@ghirshberg.com and if you'd like to submit a case study, please click here: bit.ly/2t4e8jB
Sales Have Ended
Ticket sales have ended
Welcome to the Hirshberg Entrepreneurship Institute! We will email you 2 weeks before the event with more information. If you have any questions, please email info@ghirshberg.com and if you'd like to submit a case study, please click here: bit.ly/2t4e8jB
Description
The Hirshberg Entrepreneurship Institute (formerly the 'Social Venture Institute' and the 'Stonyfield Entrepreneurship Institute') is a high impact 2-day boot camp conceived by Gary Hirshberg in 1998 based on his experience leading Stonyfield Farm from its start as a 7-cow operation in 1983 to its current nearly $400MM annual sales level. 16 Institutes have served hundreds of entrepreneurs across numerous business sectors in CA, NY, NH, MA, Toronto, Vancouver and Auckland, NZ. This will be the first time the Institute has come to Boulder, CO.
By offering a highly interactive, intimate venue for networking, storytelling, and problem solving, the Institute offers a safe, stimulating environment for hundreds of for-profit and not-for-profit entrepreneurs to learn about financing, marketing, organizational challenges, finding personal balance, managing change, and the many other areas that are fundamental to growing an enterprise. The "case" method approach ensures a practical and grounded "real world" experience. Participants take home a wealth of pragmatic and useful ideas and strategies that can be immediately put to work in a growing enterprise.
98% of participants have rated the Institute as either excellent or very good in terms of:
Applicability of sessions to their work

Overall knowledge and experience of panelists

Fulfillment of learning expectations

Introduction of innovative business strategies

Interaction and learning from participants

Access to new contacts and networks
Hirshberg Entrepreneurship Institute Cases
And How to Submit One
The Institute is built around cases submitted by attendees. Cases are real problems or challenges that you would like our panelists to address. Panelists will ask you clarifying questions and then provide feedback, and as time allows, audience members are invited to contribute as well.
The Four Case Topics are:

Financing Your Business
Positioning Your Brand Story
eCommerce
Overcoming Organizational Challenges
If you're interested in learning more or if you are unsure of where a Case fits, just submit it and we will figure that out for you!
https://form.jotform.com/80587678677177
---
NOTE: Program is preliminary, subject to the quantity and quality of attendee's pre-submitted cases. All cases must be submitted by May 18 and final program will be posted by Friday, June 1st.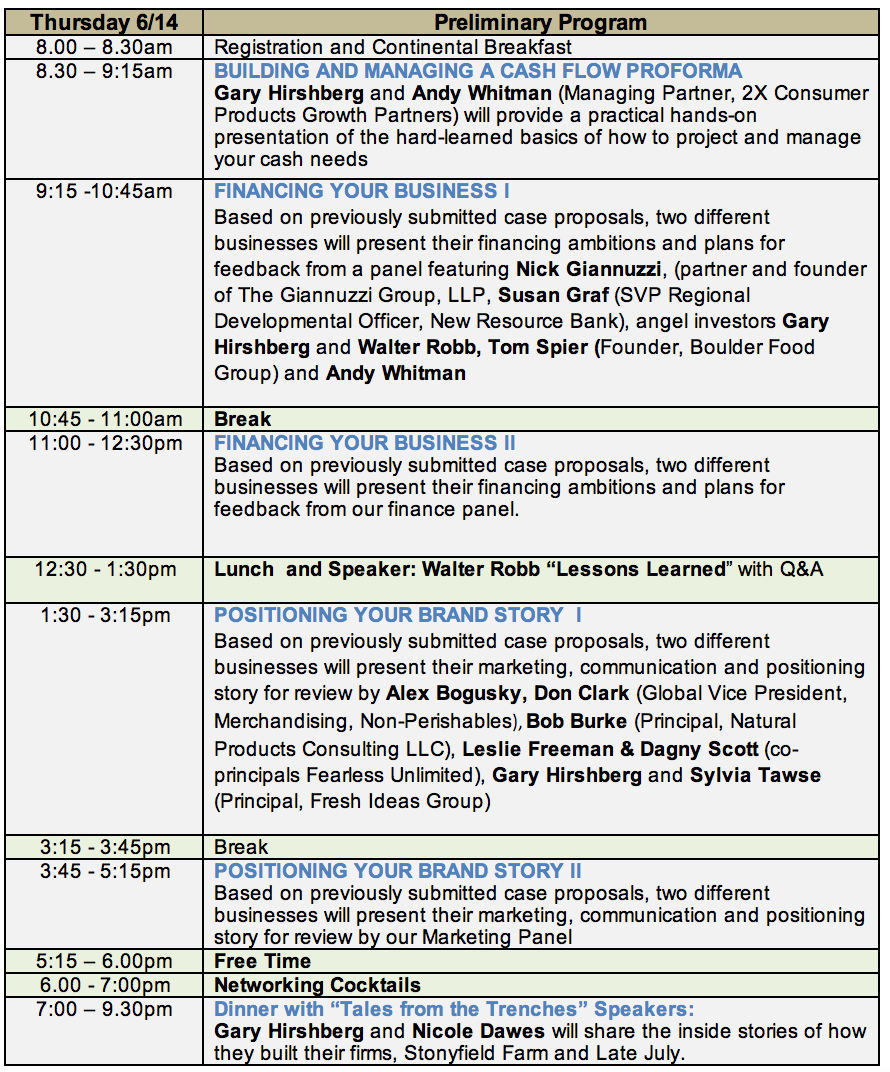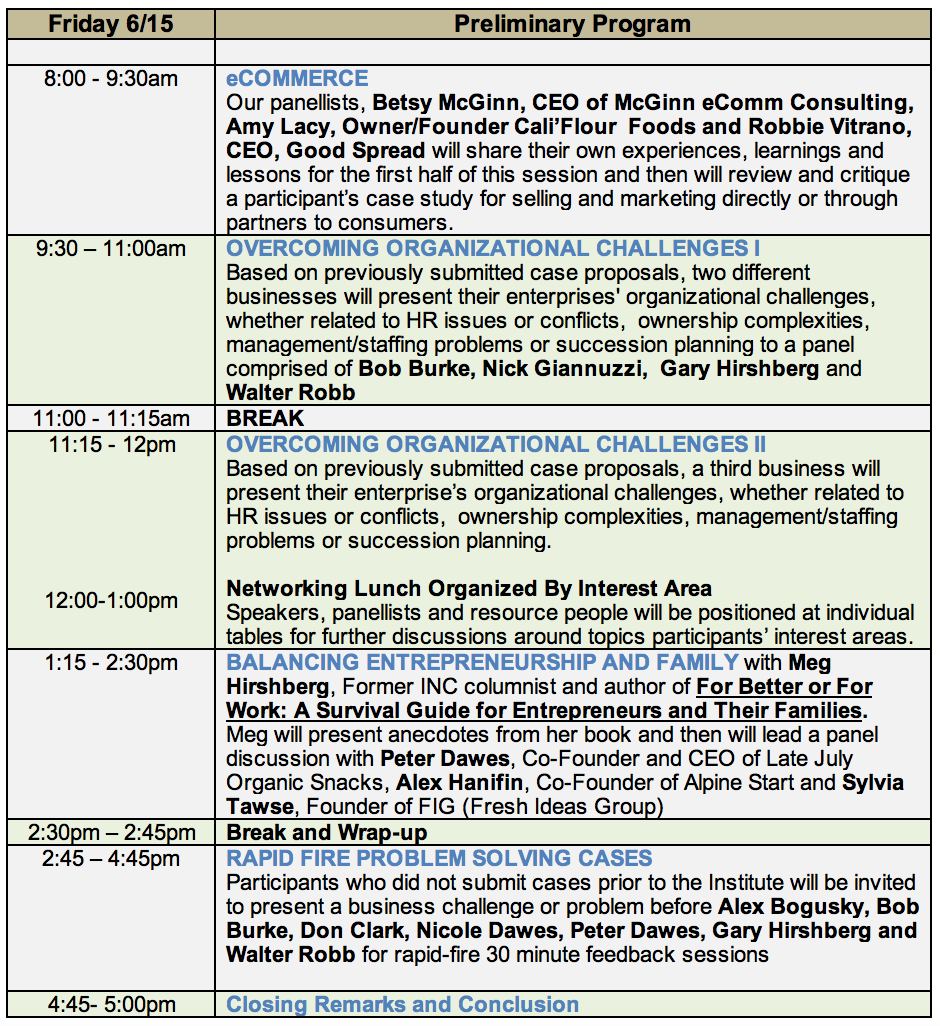 ---

---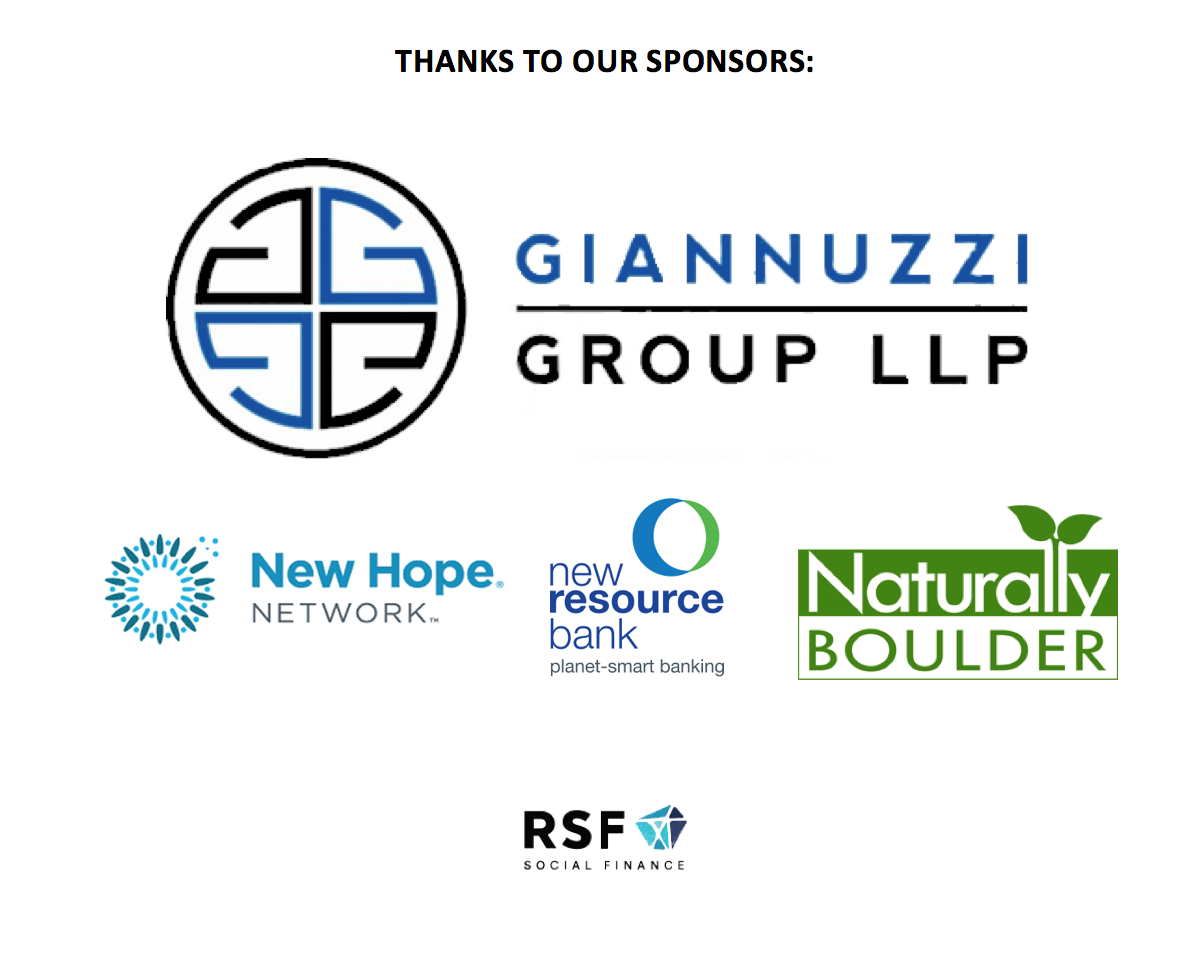 Alex Bogusky

Crispin Porter Bogusky

Former Creative Director

Bob Burke

Natural Products Consulting

CEO

Don Clark

Whole Foods Market

Global Vice President | Merchandising, Non-Perishables

Leslie Freeman

Co-Founder

Fearless Unlimited

Nick Giannuzzi

Partner and Founder

The Giannuzzi Group, LLP.

Susan Graf

New Resource Bank

SVP, Regional Development Manager

Gary Hirshberg

Stonyfield Farm

Chairman and Co-Founder

Meg Hirshberg

The Anticancer Lifestyle Foundation

Founder

Amy Lacey

Owner and Founder

Cali'flour Foods

Betsy McGinn

CEO

McGinn eCommConsulting

Walter Robb

Former Co-CEO

Whole Foods Market

Dagny Scott

Co-Founder

Fearless Unlimited

Tom Spier

Founder and Managing Partner

Boulder Food Group

Sylvia Tawse

Fresh Ideas Group (FIG), Pastures of Plenty Farm

Chief Fresh Officer and Co-owner

Robbie Vitrano

Good Spread

CEO

Andy Whitman

Managing Partner

2x Consumer Products Growth Partners