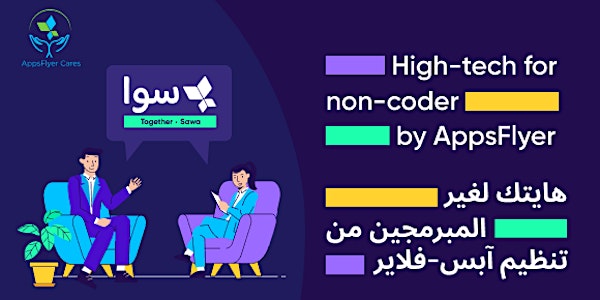 High-tech for non coders: first hand stories
Join for the first all-Arabic event for non-coders at AppsFlyer. شاركونا وانضموا إلينا في الحدث الأول من نوعه باللغة العربية للهايتك لغير
When and where
Location
Maskit St 14 Ground floor 14 Maskit Street Herzliya, Tel Aviv District 4673314 Israel
About this event
Making a career change is never easy, moving from between sectors or from small startups to large corporations can seem intimidating at first. If you're not an engineer, data analyst, or product manager you might not even know there are exciting career opportunities in high-tech for non-coders.
This event is here to break the barrier and make it more accessible for Arab young men and women to make the transition and explore the high-tech industry as a place for their new careers.
Join us for the first all-Arabic event for non-coders at AppsFlyer.
Schedule-
16:00-16:30- Mingling and light refreshments
16:30-17:00- Inspirational talk from Muhammad El Qader- Account Executive at AppsFlyer. His journey, his work, and best practices for non-coders in the tech industry.
17:00- 17:45- Panel- high tech for the non-coders - journey, personal stories, and experiences.
- Safa Krayem- AppsFlyer- moderator
Suha Bshara- AppsFlyer
Qassam Atma - Monday.com
Emil Mousa - IronSource
17:45-18:30- We invite you to network and create connections.
اختيار لمسارك المهني ليس بالأمر السهل ولا بالمفهوم ضمنًا، الانتقال من سوق عمل الى آخر وخاصة لسوق الهايتك قد يكون معقداً وصعباً، خاصة إن لم تأت مع خلفية تقنية، برمجية او هندسية، لكن ماذا عن الوظائف العديدة لغير المبرمجين/مهندسين؟ وما هي هذه الوظائف؟
هذه الامسية تهدف لكسر الحواجز وتسهيل التواصل والتشابك مع موظفات/ين عرب غير مبرمجين من قطاع الهايتك لتكون الخطوة الاولى لك في بناء مسيرتك المهنية.
شاركونا وانضموا إلينا في الحدث الأول من نوعه باللغة العربية للهايتك لغير المبرمجين من تنظيم آبس-فلاير.
16:00 تواصل وتعارف
16:30 -17:00 محادثه تحفيزيه مع محمد عبد القادر - مسيرته المهنيه والنقله النوعية من التعليم الى عالم الهايتك
17:00 - 17:45 دائره مستديرة - هايتك لغير المبرمجين بمحادثه تتضمن تجارب شخصية
صفا كريم - AppsFlyer
سهى بشاره - AppsFlyer
قسام عتمه - Monday
ايميل موسى - IronSource
18:30 - 17:45 ندعوكم/ن لتوسيع شبكه الاتصال الخاصه بكم/ن والتعارف.
* The event will be held in Arabic
* Please sign up in English