Description
Next week, here at Chaihuo x.factory, we'll host a group of students and teachers from the 4th HIF Cloud Workshop working on wearable projects with the theme of making mobilities. And on Thursday (Dec 13th), the students will present their projects, sharing the concept and backstage stories of the wearable projects with you. Welcome to join us!

UNSW HIF Cloud workshop, organised by the University of New South Wales, Sydney Australia, is an international, interdisciplinary hands-on workshop that takes place in Australia and China. After the event in Sydney in September 2018, it will bring 18 students to 3 cities in China (Beijing, Hong Kong and Shenzhen), where the students will work together in creating wearable projects! Let's have a quick look at the projects and the teams!
Project: Solar
If you are into hiking, just like us. The Solar project is exactly what you need! This project will be a good example to demonstrate the flourishing relationship between technology and fashion and it's benefits to humanity. If you are not a hiking enthusiast, this jacket can also be a good way for you to experience human and natural minimalist design. The jacket is built not only for the flexible materials of today's clothing but also for the flexible needs of the future.
Project: Stryde
For runners, no matter amateur, intermediate or professional athletes, the project Stryde brings great news to you. By incorporating sensors and auditory devices, Stryde offers low-cost, aesthetic and convenient wearables that will analyze landing and movement, as well as help runners maintain a consistent pace. It will ultimately help mobile individuals improve performance, prevent injury and better understand your fitness activities.
Project: UVU (Ultra Violet You)
Project UVU provides a solution to promote awareness about skin damage from solar rays and ultraviolet radiation within the Australian context. UVU aims to tackle this through focusing on the education surrounding ultraviolet radiation and skin cancer. The initial concept is the UVU snap band, this band will sense the current UV level and the wearers' exposure and convey this to the user. This is in the aim of highlighting the time it takes for damage to be caused, to encourage sun safety practice and focus on ingraining habitual habits.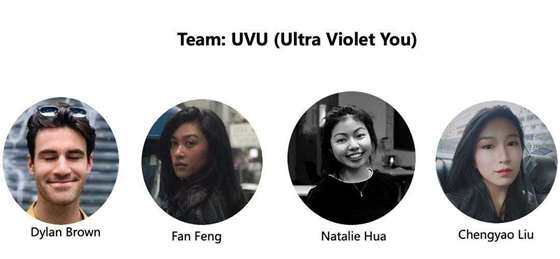 Project: Shensuo
Project Shensuo is an adaptive skirt which aids in mobility via onboard temperature regulation. Measuring via humidity and temperature sensors the Shensuo can find the user's desired comfortability range and adjust itself to help to moderate insulation. The wearable also addresses day to night aesthetic requirements, adaptive to the rapidly changing environment and social requirements of the cosmopolitan target market – the wearable may use a time sensor to adapt to evening wear (e.g.past 7 pm) or a manual plate trigger.
Join us at the HIF Cloud meetup next Thursday to learn more about these cool projects!
Event Info:
Time: 19:30-21:30, Dec 13th (Thursday), 2018
Location: Chaihuo x.factory