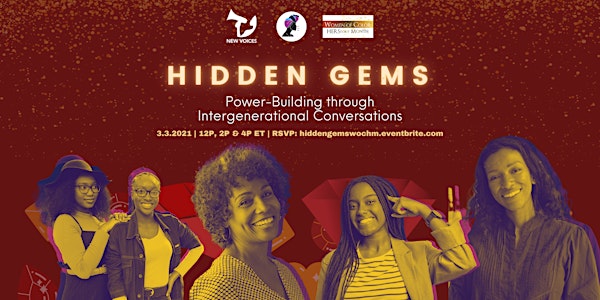 Hidden Gems: Power-Building through Intergenerational Converations
We invite you to celebrate the power, legacy and achievements of women of color during Women of Color HERSTORY Month 2021
About this event
New Voices for Reproductive Justice invites you to celebrate the power, legacy and achievements of Black women, femmes, girls and folx during Women of Color HERStory Month® 2021.
Since 2008, Women of Color HERStory Month® recognizes the exceptional social, economic, political, spiritual and cultural contributions of women of color, creates a forum for women of color to participate in leadership development, community organizing and policy advocacy while also educating the general public about Human Rights and Reproductive Justice for all people.
Celebrate with us from Black History Month to Women's Month from February 15 - March 15 and follow @WOCHERStory on Facebook and Twitter.
Hidden Gems: Power-Building through Intergenerational Conversations on Wednesday, March 3, we bring you 3 powerful discussions led by Black women, femmes and girls of different generations discussing how the COVID-19 pandemic has affected us all in various aspects of our lives.
We launch our 3-part series of wisdom-filled conversations with a 12PM ET dive into the world of community organizing before and during the pandemic, featuring seasoned organizer Paris Hatcher, national Reproductive Justice leader and Founder of Black Feminist Future and high school senior Bilquisu Abdullah.
Our 2PM ET discussion, facilitated by Kymberly Harper (mother of four daughters and Program Director of Amachi Pittsburgh) and Kenya Brown (Planned Parenthood Peer Education Specialist) will explore the parenting journey as well as the pandemic's current and future impact on parenting for generations to come.
We conclude our dynamic discussions with at 4PM ET dialogue facilitated by Tiffany Sizemore, Assistant Clinical Professor of Law at Duquesne University School of Law, and Kayla Warren, student of the University of Pittsburgh Graduate School of Public Health on being a Black woman in higher education both from a student and teaching perspective.
All discussions will take place via Instagram Live (@NewVoicesRJ). We encourage you to register to receive a reminder message.
#HiddenGems #WOCHERStory #ReproJustice