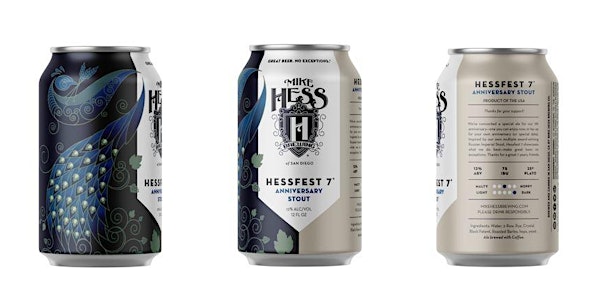 HESSFEST 7
When and where
Location
Mike Hess Brewing Co. - North Park 3812 Grim Avenue San Diego, CA 92104
Refund Policy
Contact the organizer to request a refund.
Description
It's that time of year again... That's right, HESSFEST 7 is almost upon us!
Join us for our 7th Anniversary Celebration and Charity Fundraiser on Saturday, July 29th, 2017. Our friends at San Diego CityBeat are helping organize a rocking party on Grim Ave by our North Park Brewery. We'll be inviting a bunch of our craft brewer friends to bring some of their favorite brews and join us in celebrating 7 years of Great Beer! There will be live music, souvenir glasses, food vendors, and did we mention unlimited beer samples?!
This year's event will benefit two great charities: Next Step Service Dogs and the YMCA of San Diego County. MHB will be donating net proceeds from the event to these two fantastic organizations. Your ticket purchases help us to write this check!
As usual, we'll have two sessions for the event. The early session is a special VIP event, and the later session is the General Admission Event. VIP Tickets include access to the GA area for the entire event.
Additionally we'll be releasing our brand new HESSFEST 7 Anniverary Stout at the festival. Our brewers are concocting a big 12% stout which we're going to can and make available for pick up. That 4-pack of cans will be $20 to the public after the festival, but we're giving festival goers a chance to pick up as many 4-packs as they want. Unlike the ticket sales for the festival, the proceeds from the can sales are separate from the charity event. MHB is offering a discounted ticket price for pre-release purchases at $16 per 4-pack.
VIP Admission includes:
Exclusive admission to #VIPSOURFEST inside our tasting room. 20+ glorious sour beers, each a unique collaboration with one of our guest breweries. Unlimited, self-serve tasters of our My Other Vice Berliner Weisse with unique flavors and additions provided by our brewery friends in attendance. MOV is a fantastic hot weather beer - clean, crisp, tart and refreshing with a lovely acidic finish.

Early access to the GA outdoor festival at 11am.

Exclusive VIP access to the interior VIP section and event until 2pm.

ALL VIP attendees get their very own special VIP taster cup this year that you may take (empty) into the outdoor festival and use there too after you're done sampling all the VIP brews.

Plus, all the GA Admission Benefits below.
GA Admission includes:
Access to the outdoor festival at 12:30p.

Unlimited Tasters of all the beers brought by 20 of Craft Brewer friends plus some MHB favorites, plus the chance to meet some of the owners and brewers of some of favorite beers.

Live Music from some of San Diego's best....Buckfast Superbee, Imagery Machine, Lead Pony and the Sully Blue-eyed Soul Band.

Food Vendors.

A limited edition HESSFEST 7 souvenir pint glass.
DD Tickets include:
Access to the festival areas at the time selected.

Souvenir cups and glassware once you turn in your wristband.

VIP DD Ticket holders will have access to bottled Coke & Sprite inside during the VIP Event. (No glass is allowed in the outdoor festival area)
Pre-release Price of HESSFEST 7 Stout Ticket
Pre-release price of $16 per 4-pack is bonus for online sales. (Will be available for public purchase in the tasting rooms at $20 per 4-pack.

4-pack of 12oz. cans of HESSFEST 7 Anniversary Stout - an imperial stout brewed with coffee which will clock in at a massive 12% ABV.

Canned beer will be fantastic for consumption now and should develop nicely for a few years if stored properly. Grab some for now, for gifts, or just for you to enjoy over the next few years.

This ticket does not include access to the festival. One ticket equals one 4-pack. Add an equal number of tickets to your cart which corresponds to 4-packs desired. No limit.
CONFIRMED BREWERIES:
Coronado Brewing Co.
Karl Strauss Brewing Company
melvin brewing
Modern Times Beer
Societe Brewing Company
Stone Brewing
Tombstone Brewing Company
AleSmith Brewing Company
Council Brewing Co.
El segundo brewing
Eppig Brewing
Insurgente
Knotty Brewing Co.
Mikkeller Brewing San Diego
Monkey Paw Brewing Company
South Park Brewing Company
North Park Beer Co.
Second Chance Beer Company
The Perch Pub & Brewery
Thorn Brewing Co.
Resident Brewing Company
Mission Brewery
CONFIRMED BANDS:
Sully and the Blue-eyed Soul Band (check 'em out)
Lead Pony
Imagery Machine
Buckfast Superbee
CONFIRMED FOOD:
Knotty Barrel
Ciro's Pizzeria
City Tacos
Tribute Pizza
Baron's Market
Slater's 50/50
Lucha Libre
Waypoint Public
The Patio
VIP COLLABORATION BEERS:
Mike Hess Brewing collabs with:
Eppig Brewing
Council Brewing Co.
The Perch Pub & Brewery
Monkey Paw Brewing Company
South Park Brewing Company
North Park Beer Co.
AleSmith Brewing Company
Thorn Brewing Co.
Second Chance Beer Company
Mikkeller Brewing SD
Knotty Brewing Co.
FAQs:
We'll be hosting the VIP session inside the tasting room, which will be closed to the public until after 2:30p. After which, our tasting room will be open to the public.

There are no in/out privileges. Beer may not cross between the VIP and GA sections. Once you leave the Outdoor festival area, there is no reentry. No glass is allowed in the outdoor area.

Once you decide to leave the festival the tasting room will be open to the public (after 2:30p), and you may trade in your wristband at the bar for your HESSFEST 7 souvenir glass - don't forget to bring that glass back to any of our MHB locations for $4 fill specials every Monday & Tuesday.

All attendees (including DD ticket holders) must be 21 years or older and must bring a valid ID as proof with them to the event. The nature of the event requires that all attendees are of a legal drinking age. We understand that this runs counter to our normal family friendly environment, but please leave the kiddos at home for this one. If you can only get a baby sitter for a limited time, children will be allowed inside our tasting room once it reopens to the public after 2:30p. Just to clarify: no minors are allowed in the festival area period, or inside the tasting room until after 2:30p. No refunds will be given to attendees who cannot provide valid ID. Thank you in advance for your understanding.

Hessfest 7 Stout Pre-release pricing is only valid on purchases made prior to the festival. Proceeds from canned beer sales do not contribute to the charities involved with the event. Cans will be available for pick up inside the Tasting Room after 3pm. Purchaser must have valid, bonafide ID to pick up the cans along with proof of purchase. Cans must be picked up in person at our North Park Tasting Room (3812 Grim Ave). MHB assumes that all purchasers will be picking up cans on the release date which coincides with HESSFEST 7 (7/29/17). MHB will hold purchased 4-packs for one week after pick up date (until 8/5/17). Cans which have not been picked up by the latter of those two dates will be considered abandoned and therefre forefeit, upon which point said product will return to the property of MHB. No refunds for abandoned cans will be issued. If the purchaser cannot pick up their cans at the specificed time, arrangements for pickup can be made by contacting (eric@hessbrewing.com) prior to the end of the pick up window (8/5/17). No beer will be shipped by MHB.