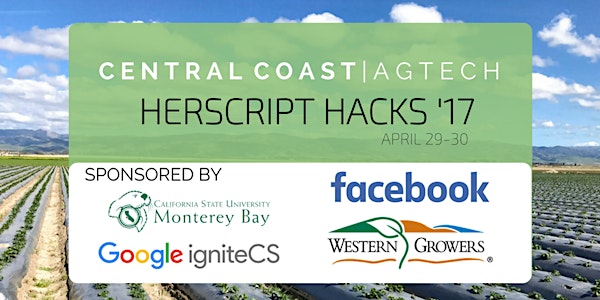 Date and time
April 29, 2017 · 9am - April 30, 2017 · 3pm PDT
Location
National Steinbeck Center 1 Main St Salinas, CA 93901
Description
Event Summary
herScript Hacks is an annual regional hackathon meant to engage and excite the tech community by creating technological solutions to real-world problems. This year's herScript hackathon is AgTech themed for developers and students interested in AgTech.
---
Event Vibe
herScript will create an environment that fosters innovation. Each team will be encouraged to think outside of the box and their imagination will have no bounds. Attendees will feel as if they are in an AgTech incubator. A trialogue between students, facebook engineers, and agriculture experts will feel natural, and each conversation will help all parties form relationships and better understand agriculture.
---
Registration Requirements
Floor: Be familiar with Object-Oriented Programming and Data Structures
Ceiling: It doesn't exist. Whether you're a student, first-year engineer, or senior engineer, feel free to take the weekend off and hack with us!
---
FAQs
Is this open to any gender?
Yes!
Do I have to be a student to attend?
No, we do have a floor defined, though. It would be helpful if you know OOP and data structures or have experience creating a software program. Whether you're a student, first-year engineer, or senior engineer, feel free to take the weekend off and hack with us!
What can I bring into the event?
1) Grit + Creativity
2) Laptop
3) Sleeping bag
4) Photo ID
Are there ID or minimum age requirements to enter the event?
Bring a form of identification to confirm your admission into the event. There are no age requirements; if you know object oriented programming and feel as if you can develop a prototype solution, please register.
What are my transportation/parking options for getting to and from the event?
We encourage that you carpool with people that you know will be attending. You may want to route to the parking structure next door.
Monterey Street Parking Garage
20 E Market St, Salinas, CA 93901
Since it's 2017, this might be more helpful:
Is parking free?

Bad news: Not all of if.
Good news: It's very inexpensive and we are covering 4 hours! (If you let us know you need a 4 hour voucher from us)
The Monterey Parking Garage charges $4.00 for a full day pass and $2.00 to stay overnight until noon, and $0.50 per hour.
We do, however, have a free voucher to cover your last four hours (noon - 4pm on Sunday). If you take a voucher from us, you will only have to pay $6.00. If you don't then you will have to to pay $8.00.
How can I contact the organizer with any questions?
Contact herScript.io@gmail.com. Please title the email with "herScript Hacks Eventbrite Question"
Do I have to bring my printed ticket to the event?
No, just your ID with your name and picture. You can bring your confirmation email if you would like.
Is it ok if the name on my ticket or registration doesn't match the person who attends?
No, please make sure your name on the ID matches the name that you submitted on your registration form. If you need to change it, please contact the organizer of the event.
Can I sign up with a team? / How will teams be formed?
No, but don't worry all teams will be self-formed on day one. Reference the itinerary on Saturday from 11:00a-12:00p for more information on this. Team sizes will range from 3-4. We will allow larger teams if you can justify the size.
I don't want to participate, but I would still like to attend, can I?
Yes, you can, but on Sunday. We will have our participants demonstrate their work on Sunday, April 30th from 1:00p - 3:00p. Feel free to attend during these hours! Please bring a friend to join you.
Where is the code of conduct?
It's currently being authored, but just follow the golden rule and you'll be on our good list!
---
Event Itinerary
*Subject to change
Saturday, April 29th
9:00a - 10:00a Check in (Coffee and pastries)
10:00a - 11:00a Agriculture Expert Series + Pitches
In this segment, you will hear a few words from agriculture experts. They will talk about the impact that agriculture has, the problems that farmers are facing as an industry.
Each Entrepreneur and Farmer will have 1 - 2 minutes to pitch a challenge they are solving or experience respectively. This is designed to give participants a project to work on at the event.
11:00a - 12:00p Team formation + Open trialogue between mentors, farmers/
entrepreneurs
, and participants
In this segment, the floor will be open for participants to speak to farmers and entrepreneurs to inspire an idea. Facebook engineers will also be present to help participants think of a way they can produce a software solution.
The floor will be divided into 5 - 10 clusters.Each cluster will have a mentor and a farmer or an entrepreneur and an engineer. It will be a fluid experience, as participants can float from cluster to cluster until they find an idea they are interested in hacking. Students who wish full autonomy on their project idea do not need to participate with the purpose of finding an idea. Instead, they can use the time to pitch their idea to get feedback and valid the industry need of their idea.
12:00p - 1:00p Lunch
1:00p - 5:00p Finalize Project Idea + Mock up + Development plan
During this time, you can begin developing a development plan for the evening.
2:00p - 5:00p Workshop with Tala
If you have never built a web application, you will learn how to using Flask + Python! We recommend brushing up on Python before coming. This will be led by an awesome Facebook Engineer, Tala. We recommend that one person per team attend as needed.
5:00p - 6:00p Dinner
Saturday 6:00p - Sunday 12:00a Hack
During this time, you will receive help from a facebook engineer as needed.
Sunday 12:00a Midnight Snacks, Surprise, Swag
If you're awake, you will find out!
Sunday 1:00a - Sunday 9:00a Hack
Sunday, April 30th
9:00a - 10:00a Breakfast
10:00a - 12:00p Last minute work + Presentation creation + Demo practice
During this time, each team will be given a final presentation template. Each presentation will be planned to take no longer than 3-minutes, including a demo if possible.
12:00p - 1:00p Lunch
1:00p - 3:00p Public Showcase
During this time, each team will present to the panel of judges and compete for a grand prize (soon to be mentioned).
---
Event Partners
Western Growers Innovation Center
Western Growers, founded in 1926, is a trade association of California, Arizona and Colorado farmers who grow, pack, and ship almost 50% of our nation's produce.
To help our members do more with less, Western Growers launched the Western Growers Center for Innovation and Technology (WGCIT) in Salinas, CA. The Center was created to help identify industry priorities, discover technologies to address those priorities, set up testing, facilitate industry feedback and communicate progress to California, Arizona, and Colorado fresh produce farmers.
Facebook
Founded in 2004, Facebook's mission is to give people the power to share and make the world more open and connected. People use Facebook to stay connected with friends and family, to discover what's going on in the world, and to share and express what matters to them.
Google IgniteCS
The goal of igniteCS is to encourage undergraduate students who have an interest in computer science, diversity, and helping others to apply what they're learning in the classroom through mentoring. We provide funding, resources, and support while student groups develop a program, find a faculty advisor, and take it into their local community.