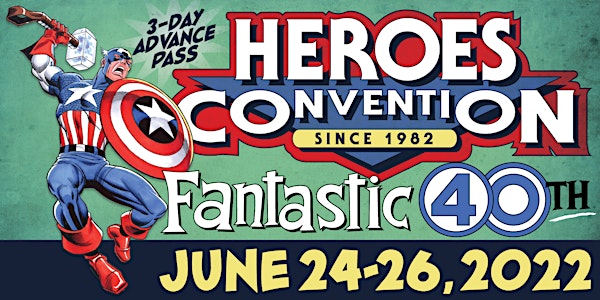 HEROESCON 2022 :: 3-DAY ADVANCE PASS
40TH ANNIVERSARY HEROES CONVENTION :: JUNE 24-26, 2022 3-DAY ADVANCE PASS
When and where
Location
Charlotte Convention Center 501 S College St Charlotte, NC 28202
About this event
40TH ANNIVERSARY HEROES CONVENTION
3-DAY ADVANCE PASS* **
AMERICA'S FAVORITE COMIC CONVENTION RETURNS JUNE 24-26, 2022!
This ticket is good for ALL THREE DAYS of the 2022 Heroes Convention, and will include any/all exclusives and incentives associated with a THREE-DAY PASS.
Tickets are WILL-CALL and will be available at HeroesCon Pre-Registration inside the Charlotte Convention Center beginning on Thursday, June 23 at 12PM. (ID may be required to collect tickets. Please bring a valid Driver's License or other form of photo ID with you to collect your tickets.)
No physical tickets will be issued in advance.
Your 3-DAY ADVANCE PASS may be in the form of a wristband. You will be required to keep this wristband on ALL-WEEKEND. If souvenir Badges + Lanyards are issued, these are for souvenir purposes ONLY and WILL NOT grant you access to the Convention Floor. You MUST keep your wristband on for the duration of the weekend on order to gain access to the Convention Floor.
HEROESCON 2022 will allow anyone 18 years of age and Under IN FOR FREE! (ID may be required for individuals 16-18 years of age.)
*3-DAY ADVANCE TICKETS ARE NON-REFUNDABLE
---
The HEROES CONVENTION was founded in 1982 by Shelton Drum, owner of Charlotte's Heroes Aren't Hard To Find comics shop. Since then the convention has become famous for its comics-first and family-friendly atmosphere, where fans can mingle directly with professionals and exhibitors. Boasting an incredible guest list built mainly on reputation and goodwill, HeroesCon is known nationwide as a "must" on the summer schedule, drawing fans, exhibitors, and creators from every region of the country to the Charlotte Convention Center.
We are busy confirming the greatest names in the comics industry for our 2022 show! We will post post guests announcements and updates right up to the week of the show! Stay up to date with regular visits to our FEATURED GUEST list on our website!
For the most up-to-date information, check out our blog, or sign up for the weekly Heroes Hotline newsletter. You can also follow us on Instagram, Twitter and Facebook! 
**IF YOU PURCHASED A TICKET FOR THE 2020 or 2021 HEROESCON, YOUR TICKETS HAVE AUTOMATICALLY TRANSFERRED TO OUR 2022 SHOW. WE WILL RESEND UPDATED TICKET INFORMATION TO YOU. YOU DO NOT NEED TO PURCHASE NEW TICKETS!
- HEROES
---
PARKING:
The landscape surrounding the Charlotte Convention Center has changed over the past two years. Parking areas that may have existed the last time you visited may no longer be available. There are paid parking lots in the surrounding area of the Charlotte Convention Center. You can see a map of parking here: http://s3.amazonaws.com/crva.com/uploads/CLT_CCC-Parking_Map_Updated_June2019.pdf
LIGHT RAIL:
You might also consider utilizing the Charlotte Light Rail which makes a stop at 3rd Street / Charlotte Convention Center as well as at Stonewall Street with is located at the Westin Charlotte. https://charlottenc.gov/cats/rail/Pages/routes.aspx
---
COSTUMES:
Costumes are welcome at the Heroes Convention, but please make sure that any props associated with a costume meet the conditions of the Charlotte Convention Center's Weapons Policy.
---
CHARLOTTE CONVENTION CENTER WEAPONS POLICY:
Concealed weapons are strictly prohibited in the Convention Center.
The Charlotte Convention Center prohibits the possession, sale, and distribution of any item that may be considered a "dangerous weapon" on its premises. "Dangerous Weapons" are defined as: "Any object or device designed or intended to be used to inflict serious injury upon persons or property; including, but not limited to: firearms, knives of any kind, razors and razor blades, metallic knuckles, clubs, blackjacks and nightsticks, dynamite cartridges, bombs, grenades, mines and any other type of explosive, as well as loaded canes." (City Code 1961 § 13-38.1; Ord. No. 545, § 1, 8-11-80)
In compliance with the aforementioned regulations, the following items are not permitted for sale, in the possession of persons, or on the premises of the Charlotte Convention Center during the hours of the Heroes Convention:
• Firearms of any kind, including air-soft and other projectiles
• Metal Swords (unsharpened or otherwise) • Knives (unsharpened or otherwise)
• Throwing Stars (unsharpened or otherwise) • Darts (unsharpened or otherwise)
• Brass Knuckles • Nunchaku, Blackjacks, Nightsticks, and Batons
• Sais, Kamas, Hatchets, Tomahawks, Axes, Stylized Blades (ex: Wolverine-style Claws) • Fireworks (of any kind)
Any and all costume prop weapons are subject to inspection, approval, and tagging by the CMPD and the Security Officers of the Charlotte Convention Center. No exceptions.
---
HEALTH & SAFETY MEASURES:
The Heroes Convention will observe all state and local health and safety guidelines. We also reserve the right to enforce additional precautions, as necessary, at the time of the show to ensure the safety of everyone in attendance.
This may include, but is not limited to: mask mandates and additional recommended safety measures.
We ask that all attendees be mindful of social distancing, hand washing/sanitizing, and other practical health and safety measures during the event.
We will post any updates in our policies to our website and social media accounts.
We appreciate your understanding and look forward to a great 40th Anniversary of the Heroes Convention June 24-26, 2022.