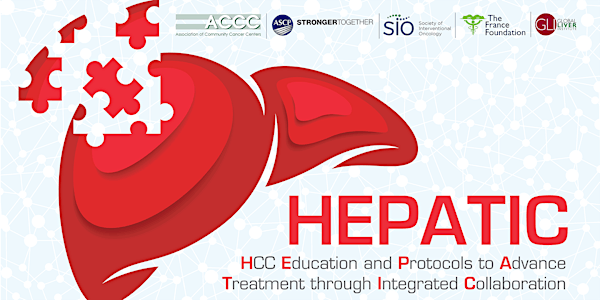 HEPATIC (HCC workshop) - San Diego
Join a panel of expert faculty in this interactive half-day workshop discussing the HCC treatments and the multidisciplinary team.
Date and time
Wednesday, March 29 · 8:30am - 1pm PDT
Location
Bahia Resort Hotel 998 West Mission Bay Drive San Diego, CA 92109
About this event
Earn 4.5 hours of educational credit at a complimentary summit on HCC treatments
Overview
The goal of this initiative is to provide the latest clinical information to increase clinicians' knowledge and improve their competence confidence in providing the most accurate recommendations for treatment as members of the multidisciplinary HCC cancer treatment team.
Participants will actively engage in interactive small-group activities, including:
A multidisciplinary HCC tumor board panel
Breakout sessions delving into tissue sample issues, and treatment options for early, intermediate and advanced HCC
Patient counseling and shared decision-making
Expert Faculty
Adam Burgoyne, MD, PhD – University of California, San Diego
Sarah Manes, MS, CCLS- Global Liver Institute
Jingmei Lin, MD, PhD - Indiana University Health
Amit Singal, MD - UT Southwestern
Stacey Stein, MD - Yale Medicine
Deborah Christensen, MSN, APRN, AOCNS, OCN - Cancer Commons
Zachary Berman, MD - University of California, San Diego
Jeet Minocha, MD - University of California, San Diego
Agenda
8:20am: Doors open
8:30am: Workshop begins with Tumor Board (light breakfast provided)
9:30am: Breakout sessions: (1)HCC Diagnostic, Tissue Acquisition and Interpretation Challenges; (2) Treatment for Early and Intermediate HCC; (3) Treatment for Advanced HCC; (4) Patient Perspectives
11:30am: Problem-Based Learning exercise- HCC patient cases
12:30pm: Action planning and Summary Report Outs
1:00pm: Workshop concludes (boxed lunch grab-n-go provided)
Directions and Parking
The HEPATIC workshop is Wednesday, March 29. Located at Bahia Resort Hotel, 998 W Mission Bay Dr, San Diego, CA 92109, in the Mission Ballroom, and Shell Room.
If you are driving, parking is available on Gleason Road or Ventura Cove Beach. Please allow 5 minutes for walking to Mission Ballroom.
Visit The France Foundation Registration page for additional information
This activity is provided by an educational grant from AstraZeneca.