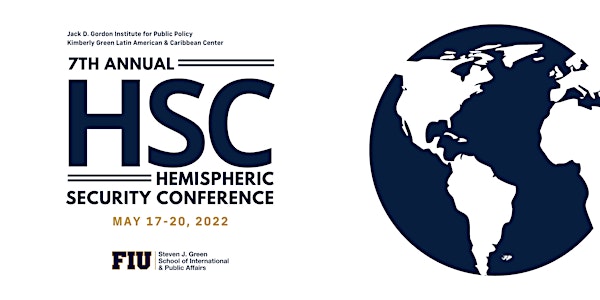 Hemispheric Security Conference - Day 1 ONLY | Dia 1 SOLAMENTE
Event Information
Location
Florida International University
11200 S.W. 8th Street
Graham Center Ballrooms
Miami, FL 33199
7th Annual Hemispheric Security Conference
About this event
Hosted by FIU's Jack D. Gordon Institute for Public Policy and the Kimberly Green Latin American and Caribbean Center (LACC), the 7th Annual Hemispheric Security Conference will bring together government representatives, academics, and industry leaders to discuss the most prevailing security threats facing the Western Hemisphere.
Streaming will be simultaneously translated in Spanish and Portuguese.
This year's #HSC2022 will be three days, with the first day having an in-person option.
*This registration is only to attend in person on Tuesday, May 17 from 1 - 5:15 p.m. No other days will be held in-person.*
Tuesday, May 17• 1-5:15 PM, in person (limited capacity) and live-streamed
Wednesday, May 18• 9 AM – 12:30 PM, live-streamed virtually
Thursday, May 19 • 9 AM – 12:30 PM, live-streamed virtually
Friday, May 20 • 9 AM – 12:30 PM, live-streamed virtually
Date and time
Location
Florida International University
11200 S.W. 8th Street
Graham Center Ballrooms
Miami, FL 33199