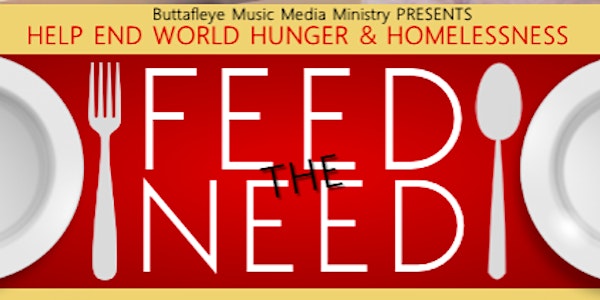 HELP END WORLD HUNGER AND HOMELESSNESS- FEED THE NEED
We are committed to helping improve the lives of less privileged families in America. Donate Or Volunteer today!
By Buttafleye Music, Media, Ministry
Date and time
Thursday, June 1 · 10am - 1pm PDT
About this event
Buttafleye Ministry Outreach
WILL YOU HELP US -HELP OTHERS?
Buttafleye Ministry is committed to helping improve the lives of less privileged families in America. Every month we are blessed by volunteers and donations who make the work of the ministry possible. These individuals, families, groups, and organizations are so crucial. They have allowed the Ministry to make the most of our resources and continue to help hungry and homeless people in the world.
We dedicate our time, energy, and money to caring for and loving those who are less fortunate and at risk. We strive to do more but with very few resources we are unable to reach the masses. That's where your support makes a big difference. by supporting our ministry with your donation we can support those in need on your behalf. We will do all the hard work and you can get the gratification of helping others.
WHAT DOES THE BIBLE SAY?
Isaiah 58:10 If you give some of your own food to [feed] those who are hungry and to satisfy [the needs of] those who are humble, then your light will rise in the dark, and your darkness will become as bright as the noonday sun.
Isaiah 58:7 Share your food with the hungry, and give shelter to the homeless. Give clothes to those who need them, and do not hide from relatives who need your help.
Ezekiel 18:7 He is a merciful creditor, not keeping the items given as security by poor debtors. He does not rob the poor but instead gives food to the hungry and provides clothes for the needy.
We are preparing and delivering hot meals, hygiene bags, and bottled water to homeless individuals and families in the Austin Area | Serving Williamson and Travis County.
Learn more about Buttafleye Ministry FEED THE NEED community outreach program.
Help end world hunger and homelessness and join the CHARITY AND LOVE MOVEMENT.
DONATE AND VOLUNTEER
Give a gift today to help people facing hunger.
YES- I WILL HELP FEED THE NEED
About the organizer
Buttafleye Music, Media, Ministry is a bible-based ministry with the center of attention on the 8 dimensions of total wellness. Our Feed The Need (Feed My Sheep) Program assists in feeding the hungry and combating homelessness through biblical rehabilitation, outreach, and fellowship. We are blessed to be able to spread the word of The Most High and reach more people through our media and music ministry, reaching several locations.
We feed the hungry with hot food, bottles of water, dessert, and hygiene bags twice a month. Our "Charity & Love Movement" goal is to permanently house the homeless individuals and families on 250 acres of land. With the help of the community, we plan to build tiny homes, a worship center, a trade and learning school, and gardening. Our focus is a self-sustaining property with inexpensive recycled materials. Learn more and donate at:  wwwButtafleyeministry.org   
SERVICES
Buttafleye Ministry coordinates and plans events for a variety of clients, ranging from small churches or businesses to large corporations. Buttafleye coordinates depending on the event and client. This includes: developing, creating collaborative content with radio, booking, contests, fairs, festivals, private and corporate events.
We specialize in digital and social media influencers on content creation, web design, web management, and web mastering. With our main focus on building ministries and church affiliations. Musically identifying local minority culture opportunities in music, media, ministry, and international markets. Contact us at: Buttafleyerministry@gmail.com