Sales Have Ended
Registrations are closed
Thank you for your participation. We will send an official invitation when we approve your participation. Ground X
Sales Have Ended
Registrations are closed
Thank you for your participation. We will send an official invitation when we approve your participation. Ground X
Description
NOTICE:
This event is specifically designed for developers and blockchain-related service providers. Non-developers can register the event at site, but due to limited availabilities of tickets, non-developers may not be able to access some programs.


---
EVENT INFORMATION & CONTACT INFO:
Event name: Hello, Klaytn in SF - Introducing the ground for all blockchain services (*for developers and service providers)
Date: October 10th
Time: 5:30 pm - 8:30 pm
Location: COVO San Francisco (981 Mission St, San Francisco, CA 94103)
(It takes only 10 minutes by walk from Hilton Union Square)
Contact us: contact@groundx.xyz
Telegram: GroundX


---
ABOUT Klaytn:
Klaytn is a service-centric blockchain platform providing an easy development environment and friendly end-user experience. It is built upon solid reliability and significant stability with substantial service development for mass adoption. The platform allows real world applications of large scale to be produced right away so that our end-users can make full use of the services without much expertise in blockchain or cryptocurrency. Klaytn seeks to deliver the true value and potential of blockchain technology to people.

Klaytn is the future designed by Ground X.
---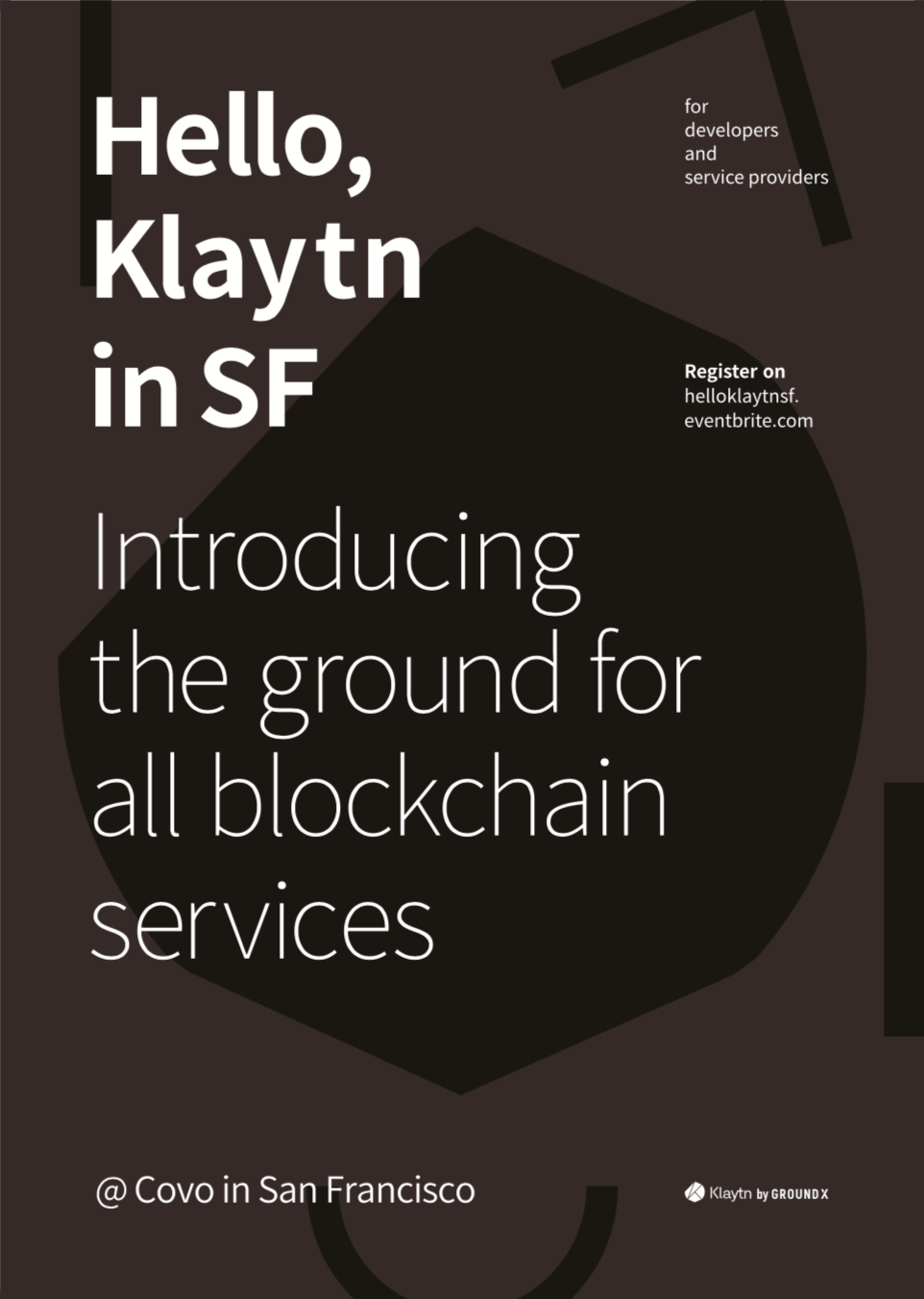 WHY ATTEND?
Ground X is introducing its service-centric public platform Klaytn to the world for the very first time here in San Francisco. At this meet-up, we plan to share Klaytn's vision and technology as well as introduce some of our products including BLASQ and announce the launch of our private testnet currently open to our initial partners only. For local developers currently engaged in blockchain technology or those interested in the industry are all welcome to attend.
---
PROGRAM:


(1) Welcoming (5:30 pm ~ 6:00 pm)


(2) Ground X Approach to Mass Adoption of Blockchain (6:00 pm ~ 6:30 pm)
- Speaker: Jason Han, CEO of Ground X
The biggest challenge of blockchain industry is mass adoption to normal users. This talk shows obstacles to mass adoption of blockchain technology: crypto user experience, token economy experience, scalability, etc. Klaytn, our public blockchain platform, is tackling these challenges by redefining blockchain principles and redesigning crypto UI/UX. In addition, this talk will present how Ground X works together with enterprises like Kakao, No. 1 Korean mobile messenger company (96% penetration of Koreans).
(3) Releasing Klaytn Testnet - Toward Service-Centric Blockchain Platform (6:30 pm ~ 7:10 pm)
- Speaker: Eric Kim, Senior researcher of Ground X
In this session, we introduce Klaytn, a hybrid blockchain enabling high performance, security, and enterprise features. We will highlight our testnet, Aspen, and a set of tools and services improving user experience (UX) and developer experience (DX).



(4) Empowering Klaytn Ecosystem for Developers and Service Providers (7:10 pm ~ 7: 20 pm)
- Speaker: KJ Sung, Senior manager of Ground X

We, Klatyn, believe, that building developer's community is indispensable to developing a superb blockchain platform. In this presentation, we will present HOW to empower developers and service providers to build the blockchain ecosystem and technology through Klaytn. Especially, we will focus on how to encourage developers involved in services such as smart contract, Klaytnwallet, and Klaytnscope through a sequential upgrade. Furthermore, we will also present what project will be carried out with a focus on blockchain in order to contribute to social innovation.



(5) Networking (7:20 pm ~ 8:20 pm)
* We will serve finger foods and beverages for attendees. (The bar at Covo will be open only for approved invitees.)



---
FAQ:
- How can I contact the organizer with any questions?
Please email: contact@groundx.xyz

- Is the price of the ticket free?
Yes, it's free.
- Who can participate?
This event is for developers, not limited to blockchain developers.

- Is food or beverages provided?
Yes.