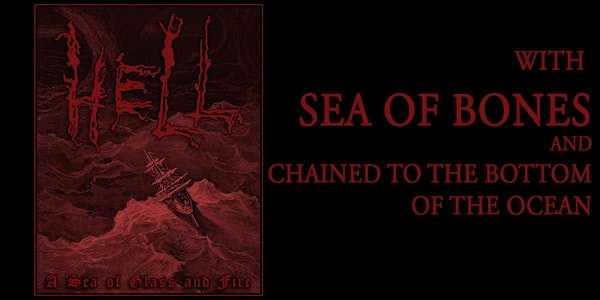 Hell (USA), Sea of Bones, and Chained to the Bottom of the Ocean
UNDER 21 WITH PARENT OR LEGAL GUARDIAN
Safety Meeting Presents
Doom and sludge from the left and the right coast.
When and where
Location
The State House 310 State St New Haven, CT 06510
About this event
3 hours

UNDER 21 WITH PARENT OR LEGAL GUARDIAN

Mobile eTicket
Hell (USA)
Extreme doom and piano music from Salem, Or since 2008. All music written and recorded by M.S.W.
Now active as a live performance with session musicians from Mania, Mizmor, and The Fools.
Sea of Bones
Formed in 2005 in New Haven, CT. Creating heavy, atmospheric, droning and aggressive music, with a fair amount of dynamics. "The Earth Wants Us Dead is a powerful and chilling vision... Sea Of Bones have crafted a haunting and exhilarating masterpiece that should cement their reputation as one of the heaviest and most creative bands currently out there." -The Sludgelord.
Chained to the Bottom of the Ocean
"Following in the sludgy methods of masters like Grief, Chained to the Bottom of the Ocean adds formidable and ambience heft to this misanthropic legacy of critique and aural brutality, and while they clearly have a thing for cumbersome titles, their message comes through with cruel efficiency " - The Obelisk