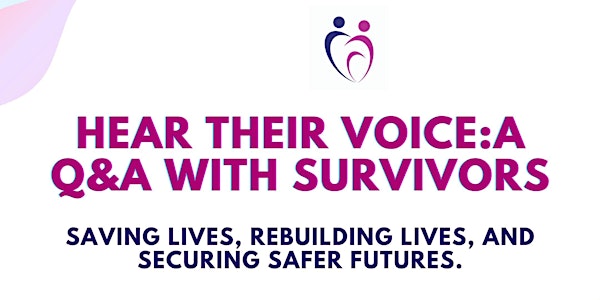 Hear their Voices: A Q&A with Survivors
Hear from survivors of domestic violence and understand the "why" in their journey.
About this event
JOIN US!
OCTOBER IS DOMESTIC VIOLENCE AWARENESS MONTH
InterAct is now hosting s series of virtual presentations to bring awareness to domestic . Learn why these issues are so critical especially during this pandemic, how you can stand with survivors, and what InterAct is doing to support survivors during this period of social isolation.
Registration is required. The link will be sent out to participants the day prior to the event.
InterAct is here- YOU ARE NOT ALONE If you are experiencing domestic violence or sexual assault during the COVID-19 pandemic, HELP IS AVAILABLE. Our crisis lines are available 24/7 to provide safety planning, advocacy and connection to resources. 919-828-7740
InterAct is Wake County's only comprehensive service provider for victims of domestic violence and sexual assault. Dedicated to ending the cycle of violence, InterAct is Saving Lives, Rebuilding Lives, and Securing Safer Futures for victims and survivors and their families. InterAct has three 24-hour crisis lines, emergency shelter, court advocacy, electronic filing for Domestic Violence Order of Protection on site, 14 on-going support groups for adult and children, bilingual counseling, Solace Center-Wake County's first and only community based sexual assault forensic examination center, professional training, and a full violence prevention curriculum in the Wake County schools.
DOMESTIC VIOLENCE SEXUAL ASSAULT SOLACE CENTER SPANISH
919-828-7740 919-828-3005 919-828-3067 844-203-8896
866-291-0855 toll free 866-291-0853 toll free 866-291-0854 toll free https://interactofwake.org