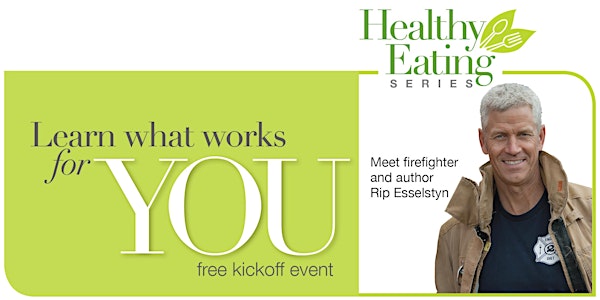 Healthy Eating Series: Learn What Works for YOU
When and where
Location
Jim Rouse Theatre and Performing Arts Center 5460 Trumpeter Road Columbia, MD 21044
Description
This event is sold out — but you can still watch the event live at ColumbiaAssociation.org/healthyeating at 7pm the day of the event.
Learn what works for YOU
Join us for our free kickoff event. Meet firefighter Rip Esselstyn, who has helped thousands extinguish their unhealthy eating habits. Esselstyn is the author of several books, including The Engine 2 Seven-Day Rescue Diet, Plant Strong, and The Engine 2 Cookbook. He has appeared on the Today Show, CBS Sunday Morning, Good Morning America, and Dr. Oz.
Nutrition panelists include:

Dr. Jyothi Rao, Shakthi Health and Wellness Center
Dr. Lisa LaBorwit, pediatrician
Melanie Berdyck, Registered Dietitian, Giant Food
*Doors open at 6pm. Presentation at 7pm. Q&A with nutrition panelists at 8pm. Wellness vendors available from 6-9:30pm.
HERE'S A SPECIAL INVITE FROM RIP: https://youtu.be/UFX2vsRIAL0