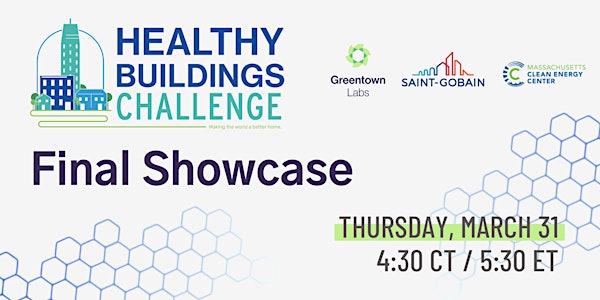 Healthy Buildings Challenge Final Showcase
Join us to celebrate the culmination of the Healthy Buildings Challenge!
About this event
On Thursday, March 31, join us to celebrate the culmination of the Healthy Buildings Challenge, a corporate partnerships accelerator program in partnership with Saint-Gobain and supported by the Massachusetts Clean Energy Center, that has supported five innovative startups focused on advancing building tech solutions for the health of both people and the climate.
Attendees will hear the Healthy Buildings Challenge participants speak about their technologies, what they have learned and accomplished over the past six months, and where they are headed next.
Agenda
5:30-6:00pm: Check-in and Networking
6:00-6:15pm: Welcome Remarks
6:15-7:15pm: Startup Presentations
7:15-7:25pm: Keynote Remarks
7:25-7:30pm: Closing Remarks
7:30-8:00pm: Networking
Learn about the startups below!
Check out the Healthy Buildings Challenge landing page for more information on this program!
About Saint-Gobain
Saint-Gobain CertainTeed is a leading North American manufacturer of building materials including roofing, vinyl siding, trim, fence, railing, decking, insulation, gypsum, and ceilings products. Saint-Gobain is one of the top 100 industrial companies in the world.
Climate action has been at the core of Saint-Gobain's business strategy for a long time. In 2010, the company committed to reduce its CO2 emissions by 20 percent by the year 2025, and have already achieved a reduction of 14.5 percent CO2 by the end of 2019. Saint-Gobain provides energy-efficient solutions and support the development of renewable energy by providing solutions for industrial players and utilities in the energy sector. Its solutions for lightweight construction materials drive building design toward significantly less carbon-intensive options when compared to traditional construction. Saint-Gobain supports the Net Zero Carbon Commitment of the World Building Council, and is an advocate for a greener, more sustainable built environment.
About MassCEC
The Massachusetts Clean Energy Center (MassCEC) is dedicated to accelerating the success of clean energy technologies, companies, and projects in the Commonwealth—while creating high-quality jobs and long-term economic growth for the people of Massachusetts.
____________________________________________________________________________________________
Venue Information
Greentown Labs
444 Somerville Ave.
Somerville, MA 02143
Questions? Reach out to Greentown Labs' Event Manager, Jill Kirkpatrick (jkirkpatrick@greentownlabs.com).