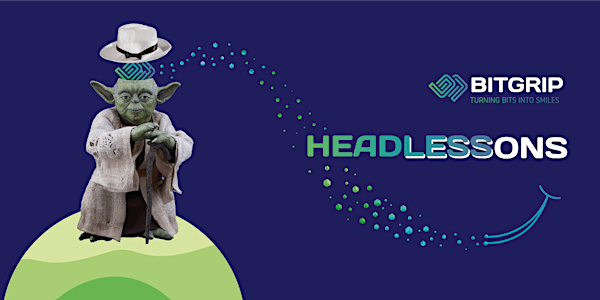 Headless Commerce
BITGRIP HEADLESSONS are local CMS commerce community events for networking and knowledge exchange.
When and where
Location
GraphCMS GmbH Torstraße 60 10119 Berlin Germany
About this event
This event will be hosted by GraphCMS and organized by bitgrip Gmbh.
Schedule
18:00-18:45: Doors open & Check-ins
18:45-19:00: Welcome on stage
19:00-19:20 1st Talk - Timmo Köhler, Managing Partner, bitgrip GmbH
HEADLESS NOT BRAINLESS
Many marketers are losing their minds when it comes to "headless" while developers are thrilled. In this talk, a current customer example is used to show you how the "headless" concept can be put into practice, so that technical and economic advantages can be derived for brands.
19:25-19:45 2nd Talk - Jonathan Steele, Developer Advocate, GraphCMS
Running Modular Service Based Commerce Stacks (With a Headless CMS)
No longer are we bound by the traditional commerce platforms when selling online. The era of the headless CMS is upon us. We'll explore a new approach to building online commerce experiences, orchestrating best-of-breed services to deliver fast, scalable websites for your global audience
19:45-20:00 3rd Talk - Rafal Cymerys, Managing Partner, Upside
Connected customer experiences in e-commerce
E-commerce is experiencing a significant shift. With the growing number of smart devices, we're entering an era where web and mobile are not enough for our customers and going to highlight the current landscape of this change and how headless e-commerce answers it.
20:00-20:10 Closing line
20:10-21:00 Drinks & networking
HEADLESSONS event is organized by bitgrip Gmbh. We turn bits into a relaxed smile on the faces of your customers. Our business areas are IT consulting, digital product development, and IT operations. Our work is based on comprehensive technical knowledge and over 450 years of IT project experience. Human qualities and a trustful, honest partnership are essential to us to develop successful digital products. After all, it is not about B2B or B2C, but about human to human.
GraphCMS is a headless CMS for the era of application content. GraphCMS is a modern headless content management platform that helps teams bring content to any channel. High-traffic publishing and marketing websites, multi-language e-commerce platforms, interactive mobile apps, voice apps – GraphCMS is the solid content infrastructure used by organizations like Discovery, Tchibo, Shure and DTM. GraphCMS is the first CMS to support the GraphQL API query language which drastically improves developer productivity and application performance.