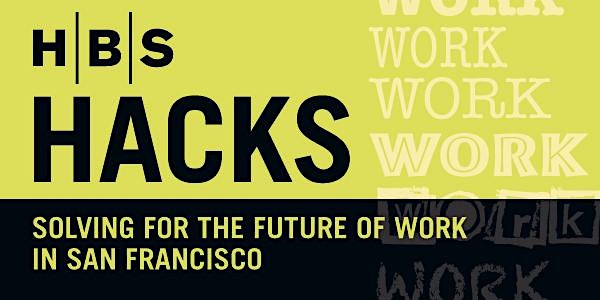 HBS Hacks: Solving for the Future of Work in San Francisco
When and where
Location
Google Community Space 188 The Embarcadero San Francisco, CA 94105
Refund Policy
Refunds up to 7 days before event
Description
The world of work is constantly changing at an ever-increasing pace. Technological breakthroughs are upending traditional work everywhere—from grocery store self-checkout stands to software automating bookkeeping—and causing both displacement and new opportunities for workers. Many see it as an inevitable brewing storm. But is there a way society can be better prepared for it?
HBS Hacks, an innovative, hands-on, interactive event, brings together alumni from diverse backgrounds to tackle the question of the future of work in San Francisco. How can displaced workers best be redeployed? How can business, government, and nonprofit leaders come together to mitigate the effects of worker displacement? How should entrants to the workforce best prepare themselves?
This full day event will enable alumni to hear from HBS faculty and experts in the field, then work together in teams to craft and present opportunities and prototypes for industry, the City of San Francisco, local colleges, and nonprofits. Collaborators from Google.org, the City of San Francisco, IDEO, and other businesses and local non-profits will be there to shine the light on the problems at hand.
Prizes awarded for the best solutions! HBS Association of Northern Calinfornia Community Partners will use the opportunities identified to bring together cross-sector leaders over the next year, and share follow-up results one year later.
Be a part of the solution to the Future of Work in San Francisco. Space is limited. Sign up now to claim your spot! Please note: This is an all-day event. In order to participate, you must be committed to being on a team and staying throughout the full event.
HBS ORGANIZING COMMITTEE
COLLABORATORS
FEATURED SPEAKERS
Herman B. "Dutch" Leonard

,

George F. Baker, Jr. Professor of Public Management; Eliot I. Snider and Family Professor of Business Administration;

faculty co-chair,

HBS Social Enterprise Initiative
William R. Kerr, Dimitri V. D'Arbeloff - MBA Class of 1955 Professor of Business Administration; faculty co-chair, HBS Managing the Future of Work Project
Melanie Bell-Mayeda (MBA 1998), Partner and Managing Director, IDEO San Francisco
Andrew Dunckelman (MBA 2014), Principal, Google.org
Roslyn Braeman Payne (MBA 1970), Member, California Community Colleges Workforce & Economic Development Performance Advisory Committee
Todd Rufo, Director San Francisco Office of Economic and Workforce Development
William Rogers, President and CEO, Goodwill San Francisco, San Mateo, Marin
Juan Carlos (JC) Velten (MBA 1998), Founding Partner, Innovation Labs
Becca Chacko (MBA 2015), R&D Lead, IDEO coLab
AGENDA
8:00 a.m. Breakfast and welcome
9:00 a.m. Future of Work case discussion and problem introduction led by HBS professor Bill Kerr
10:00 a.m. Overview of prototyping process and cross sector fireside chat
12:00 p.m. Working lunch/team deliberation #1
2:00 p.m. Quick feedback session
3:00 p.m. Team deliberation #2
5:00 p.m. Final presentations, judging, and awards
7:00 p.m. Capstone celebration with cocktails and hors d'oeuvres