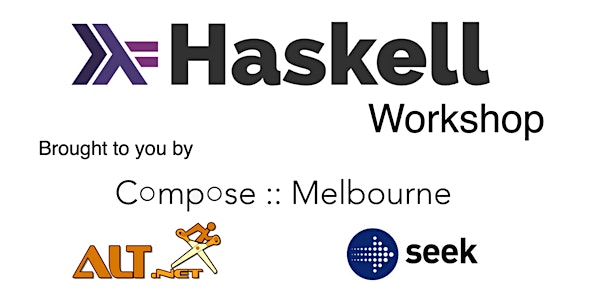 Location
SEEK Ltd.
541 Saint Kilda Road
Melbourne, VIC 3004
Australia
Description
NOTE please install the environment before the day. Intructions can be found here
What is this and who is it for?
Compose Melbourne and Melbourne ALT.NET have teamed up to bring you a workshop for Haskell beginners. This workshop was previously run at the Compose Conference Melbourne, the materials for that course (available here) will be adapated for the alt.net group for this workshop.
Materials & Preperation
The workshop content is available ahead of time here! We will contact you when we have specific prep instructions.
Map
Note: The Eventbrite map location is slightly wrong. Please check the address on Google Maps.
Transport
SEEK is on St Kilda Rd, if travelling by public transport catch a tram down St Kilda Rd from Flinders St Station. It is on many tram routes. There is also usually some parking available on St Kilda Rd.
FAQs
Is this a free event?
Not quite! There is a ~$5 charge to ensure that RSVPs attend.
What should I bring to the event?
Please bring a laptop!
The materials assume that you have access to a text-editor and Stack (the Haskell environment).
In order to avoid WiFi issues on the day, please install the environemnt before hand, you can find instructions here
Further instructions can be found in the workshop materials.
TAGS
Things To Do In Melbourne Class Science & Tech
SHARE WITH FRIENDS
Facebook Facebook Messenger LinkedIn Twitter email