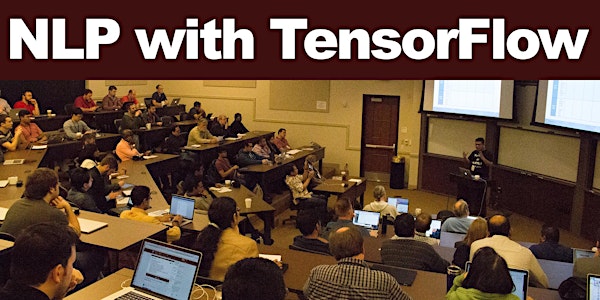 Hands-on Introduction to NLP with TensorFlow (Austin)
When and where
Location
AT&T Executive Education and Conference Center 1900 University Avenue Austin, TX 78705
Description
As part of AI Weekend / Data Day Texas 2018, Jonathan Mugan will be offering a 4 hour workshop: Hands-on Introduction to NLP with TensorFlow. Requirements and course outline forthcoming. This class will likely sell out quickly.
Course Outline
This class will teach you how to do natural language processing with deep learning in TensorFlow. We will start at the beginning with getting TensorFlow running on simple computations. We will explore the structure of the TensorFlow GitHub code so that you can understand it right from the source. From this beginning, we will explore applications such as learning word vectors, language models with recurrent neural networks, and text classification with convolutional neural networks. We will also cover a codebase that allows you to create powerful sequence-to-sequence models for machine translation and other tasks. And we will introduce the tensor2tensor codebase, which is a powerful generalization on the sequence-to-sequence framework. In addition to covering TensorFlow, we will teach you how to use TensorBoard to visualize both your computations and results.
Requirements
This class requires basic programming skills. Examples will be in Python, but if you know another language that shouldn't be a problem.
About the Speaker
Jonathan Mugan (Linkedin) is a researcher specializing in artificial intelligence, machine learning, and natural language processing. His current research focuses in the area of deep learning for natural language generation and understanding. Dr. Mugan received his Ph.D. in Computer Science from the University of Texas at Austin. His thesis was centered in developmental robotics, which is an area of research that seeks to understand how robots can learn about the world in the same way that human children do. Dr. Mugan also held a post-doctoral position at Carnegie Mellon University, where he worked at the intersection of machine learning and human-computer interaction. One of the most requested speakers at the Data Day conferences, he recently also spoke on the topic of NLP at the O'Reilly AI conference, and is the creator of the O'Reilly video course Natural Language Text Processing with Python. Dr. Mugan is also the author of The Curiosity Cycle: Preparing Your Child for the Ongoing Technological Explosion.
Requirements
Forthcoming
Course Outline
Forthcoming