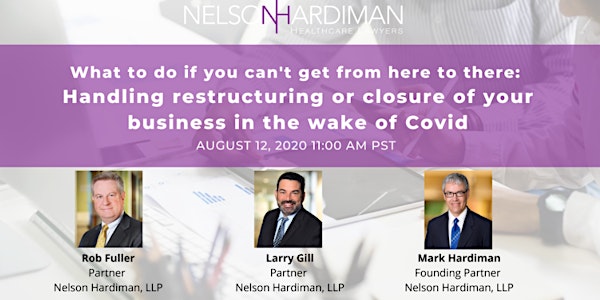 Handling restructuring or closure of your business in the wake of Covid
Overview of options for businesses that are facing distress or closure as a result of Covid-19
About this event
This webinar addresses options for businesses that are facing distress or closure as a result of Covid-19. The expert panel will cover workouts, reorganizations, bankruptcy, asset and stock sales, capital raising, debt issuance, conversions, and closure, among other options. Business owners, C-Suite Executives, and Boards of Directors of companies of all sizes are facing these possibilities, even in healthcare, and knowing the options for a distressed business is the first step in putting together a go forward plan.
About Nelson Hardiman:
Nelson Hardiman is the largest healthcare specialty law firm in Los Angeles. Our attorneys represent health care providers, including hospitals, in California and throughout the U.S.
Meet Our Speakers
Rob Fuller:
Rob Fuller utilizes his next-level healthcare management skillset to advise on transactional, operational and regulatory matters in the healthcare industry. His transactional experience includes counseling on mergers, acquisitions, financing, securities, formation, governance, purchase, sale and licensing of businesses. Rob's securities practice goes beyond the basics of private placements, early round capital raise for startups, bond issuance, and 3(b) registration compliance, as he has developed various cash flow-based derivatives and other specialty securities designed to meet diversified investor needs. His finance practice is equally sophisticated, with experience in all forms of secured and unsecured financing, including diverse swap instruments hedging interest rates and commodity pricing. Rob served as chief restructuring officer for a hospital through a 30 month bankruptcy that had a successful exit.
Larry Gill:
As a partner in the firm's Transactional Practice, Larry Gill oversees the firm's financing efforts, focusing on debt (term, revolving, convertible, debtor-in-possession, bankruptcy exit financing, factoring, secured and unsecured) and equity (primary equity, warrants, shadow equity, profit participation), as well as other private investment and securities transactions. Larry also focuses on mergers and acquisitions, both equity sales and assets sales, in the healthcare and life science business sectors. Larry's extensive background in finance encompasses 25 years in the corporate restructuring community, with strong experience investing in companies in bankruptcy.
Mark Hardiman:
Mark Hardiman has more than two decades of experience representing healthcare providers in complex litigation matters, including federal and state criminal investigations, false claims and other civil lawsuits, and administrative proceedings before federal and state agencies. Mark has represented hospitals, skilled nursing home facilities, home health agencies, clinical laboratories, physician medical groups, pharmacies, ambulance companies, IDTFs, management companies, and individual providers in federal and state criminal and civil investigations and cases filed throughout the United States. His civil litigation experience includes representing providers in payment disputes with managed care plans, and in business disputes involving breach of contract, unfair competition and other claims, both in court and in arbitrations. Mark has also litigated 'deal-gone-bad' cases and deal break-up fee disputes.