Description
Monthly Meeting Announcement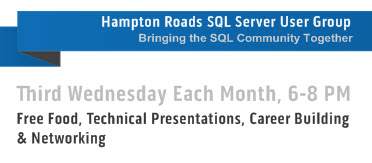 About Us
Hampton Roads SQL Server User Group is a group which embraces the PASS mission statement, "to empower data professionals who leverage Microsoft technologies to connect, share, and learn through networking, knowledge sharing, and peer-based learning." The HRSSUG is focused on Microsoft SQL Server software and the tools related to its use for all users starting with novices all the way up to experts. Join us for HRSSUG's regularly scheduled meetings every third Wednesday of every month.
We focus on connecting SQL Server professionals working in all of the major areas of data.
Our Topics
Database Administration
Business Intelligence
Design
Development
Machine Learning
Performance Tuning
Career Building & Soft Skills
Typical Meeting Format
6:00pm - 6:30pm | Free food / beverages, networking and group discussion.
6:30pm - 6:45pm | PASS news / announcement, a word from our sponsors, local event reminders.
6:45pm - 8:00pm | Speaker presentation followed by open discussion and networking.


This Month's Speaker :
Speaker: Joseph D'Antoni
Principal Consultant, Denny Cherry and Associate
Bio:
Joseph D'Antoni is a Senior Consultant and Microsoft Data Platform MVP with over 20 years of experience working in both Fortune 500 and smaller firms. He is a Principal Consultant for Denny Cherry & Associates and lives in Malvern, PA. He is a frequent speaker at major tech events like Microsoft Ignite, PASS Summit, and Enterprise Data World. He blogs about all topics technology at joeydantoni.com. He believes that no single platform is the answer to all technology problems. He holds a BS in Computer Information Systems from Louisiana Tech University and an MBA from North Carolina State University, and is the co-author of the Microsoft book "Introducing SQL Server 2016".
Title:
Abstract:
Identifying and fixing problematic query plans got a lot easier in SQL Server 2016, with the introduction of the Query Store. SQL Server 2017 takes that power a few steps further. Have you ever:• Had a query suddenly slow down at 2 AM when you were on call? • Seen a query that received a giant memory grant that brought the rest of the work on your server to a screeching halt? • Had the optimizer choose the wrong type of join and send your query off to never finish? Don't worry, you will still have your job, but the features introduced in SQL Server 2017 will make narrow your focus to the absolute worst queries in your environment. You will also get a sneak preview of what's coming into future releases of SQL Server in terms of performance.


Signed up for SQLSaturday VA Beach Yet? FREE TRAINING! Check it out!

Thanks to our Sponsors!