Description
Monthly Meeting Announcement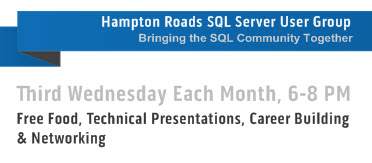 About Us
Hampton Roads SQL Server User Group is a group which embraces the PASS mission statement, "to empower data professionals who leverage Microsoft technologies to connect, share, and learn through networking, knowledge sharing, and peer-based learning." The HRSSUG is focused on Microsoft SQL Server software and the tools related to its use for all users starting with novices all the way up to experts. Join us for HRSSUG's regularly scheduled meetings every third Wednesday of every month.
We focus on connecting SQL Server professionals working in all of the major areas of data.
Our Topics
Database Administration
Business Intelligence
Design
Development
Machine Learning
Performance Tuning
Career Building & Soft Skills
Typical Meeting Format
6:00pm - 6:30pm | Free food / beverages, networking and group discussion.
6:30pm - 6:45pm | PASS news / announcement, a word from our sponsors, local event reminders.
6:45pm - 8:00pm | Speaker presentation followed by open discussion and networking.
This Month's Speaker : Kenneth Jensen
Bio:
Kenneth Jensen has been programming for 37 years and has been using SQL Server since 6.5. He has written full management suites for the Emergency Medical Services and enterprise contact centers. He is a Senior Systems Engineer with a large health care provider.
When he is not managing enterprise IT security web filters and proxies, Kenneth focuses on automation, system integrations and ETL/ELT using AWS, SQL Server, mySQL, SSIS, T-SQL, Python and PowerShell for different lines of business within his organization.
When he is not working at his full time job and not caring for his family, Kenneth is a co-organizer for the Hampton Roads 757 Python User Group, where he often presents. He is also a long term member of the Hampton Roads SQL Server User Group. Kenneth was an advocate for cyrpto-currency, a Bitcoin full node operator on AWS and did Bitcoin blockchain forensics before working part-time as a systems engineer at a one of North America largest Crypto-Currency mining facility.
Title:
Amazon Web Services (AWS), business and the data professional
Abstract:
In this session we will discuss why businesses of all sizes and verticals are moving to the cloud and what impact that business decision is having on all data professionals.
We will cover what services and solutions Amazon Web Services (AWS), the largest public cloud provider, has to offer so businesses and data professionals can remain competitive.
With a bias towards SQL Server, we will discuss; EC2, RDS, Glacier, S3, Glue, Redshift, Lamdba, Active Directory, alerting, data migration solutions and the AWS marketplace. We will also identify which third party SQL Server tools work with AWS.
By the end of the session you will understand the advantages the AWS cloud gives business and what tools are available for the data professional. You will be able to create your own free AWS account and start exploring AWS.


Discount Code to PASS Summit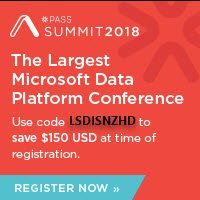 Thanks to our Sponsors!