Description
Monthly Meeting Announcement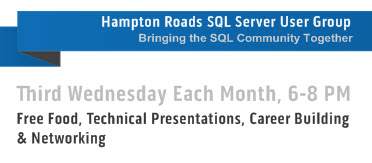 About Us
Hampton Roads SQL Server User Group is a group which embraces the PASS mission statement, "to empower data professionals who leverage Microsoft technologies to connect, share, and learn through networking, knowledge sharing, and peer-based learning." The HRSSUG is focused on Microsoft SQL Server software and the tools related to its use for all users starting with novices all the way up to experts. Join us for HRSSUG's regularly scheduled meetings every third Wednesday of every month.
We focus on connecting SQL Server professionals working in all of the major areas of data.
Our Topics
Database Administration
Business Intelligence
Design
Development
Machine Learning
Performance Tuning
Career Building & Soft Skills
Typical Meeting Format
6:00pm - 6:30pm | Free food / beverages, networking and group discussion.
6:30pm - 6:45pm | PASS news / announcement, a word from our sponsors, local event reminders.
6:45pm - 8:00pm | Speaker presentation followed by open discussion and networking.
This Month's Speaker : Jim Donahoe
Bio:
Jim is a Cloud Solutions Architect with RDX. He lives in Pittsburgh in a small suburb. He loves working with all things Azure(ARM templates, DBaaS, SQL on IaaS). He is an avid collector of retro video games! He is a member of the Idera ACE program for 2018.
Title:
Getting started with Azure SQL Database: What You Need To Know!
Abstract:


Azure SQL Database offers a way quickly spin up new databases with minimal management requirements. However, the number of differences between on-premises SQL Server and Azure SQL Database can be overwhelming. Even worse, with DBaaS it's not clear who is responsible for what anymore. In this session, we will cover all the basic steps of getting your first Azure SQL Database instance spun up. We'll cover common gotchas, like firewall settings and resource locks. We'll also dive into some more advanced options with templates, allowing you to make your processes reproducible. By the end of this presentation, you'll understand if Azure SQL Database is the right choice for you and your needs. You'll understand how it can simplify management and allow you to scale easily. Finally, you'll have the confidence to go and create your own instance with ease.
Discount Code to PASS Summit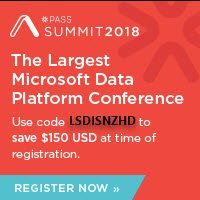 Thanks to our Sponsors!