Description


Monthly Meeting Announcement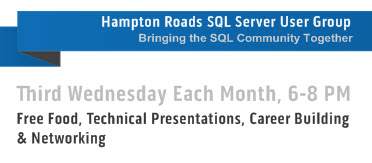 About Us
Hampton Roads SQL Server User Group is a group which embraces the PASS mission statement, "to empower data professionals who leverage Microsoft technologies to connect, share, and learn through networking, knowledge sharing, and peer-based learning." The HRSSUG is focused on Microsoft SQL Server software and the tools related to its use for all users starting with novices all the way up to experts. Join us for HRSSUG's regularly scheduled meetings every third Wednesday of every month.
We focus on connecting SQL Server professionals working in all of the major areas of data.
Our Topics
Database Administration
Business Intelligence
Design
Development
Machine Learning
Performance Tuning
Career Building & Soft Skills
Typical Meeting Format
6:00pm - 6:30pm | Free food / beverages, networking and group discussion.
6:30pm - 6:45pm | PASS news / announcement, a word from our sponsors, local event reminders.
6:45pm - 8:00pm | Speaker presentation followed by open discussion and networking.
This Month's Speaker : Tracy Boggiano
Bio:
Tracy is a Database Superhero. She has spent over 20 years in IT and has used SQL Server since 1999. She is also the owner of Database Superheroes LLC, a company that specializes in all aspects of administration and deals heavily with performance tuning, high availability and disaster recovery. Tracy is a also co-organizer of a Special Interest Group (SIG) dedicated to advanced DBA topics in our local user group TriPass. In addition, she is also the founder of http://WeSpeakLinux.com. Before she worked full-time as a DBA, she was formally a developer and network administrator. She also tinkered with databases in middle/high school to keep her sports card collection organized.
Tracy has volunteered through the NC Guardian ad Litem program since 2003 advocating for abused and neglected foster children in court. This is her life's passion outside of Database Platforms, her favorite job. More information about this program in North Carolina can be found at http://volunteerforgal.org or the national organization CASA at http://www.casaforchildren.org. To read why I became I Guardian ad Litem visit my LinkedIn Profile, click on more and look under media at the Lemons to Lemonade essay and other media I have set up there.
Title:
Collecting Performance Metrics - Hampton Roads Local User Group
Abstract:


Ever had a manager standing over your shoulder, wanting to know why an instance is running slow or if it can handle additional workload? What information would you use to answer these questions? If only you knew what performance metrics to collect and had them for your existing instances to answer these questions.
In this session, we will be combining three open source tools - Telegraf, InfluxDB, and Grafana - into an inexpensive system that collects performance metrics you can use to troubleshoot issues and answer important questions about your SQL Server instances, including your Linux SQL Server instances. We will learn what metrics to collect, how to use the tools to collect performance metrics and then we'll put it all together in an interactive dashboard for easy visualization.
Discount Code to PASS Summit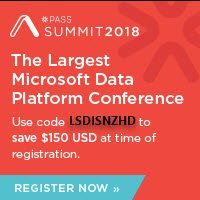 Thanks to our Sponsors!