Description
Monthly Meeting Announcement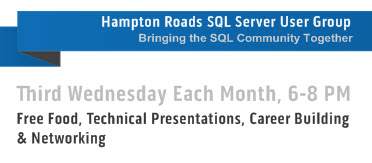 About Us
Hampton Roads SQL Server User Group is a group which embraces the PASS mission statement, "to empower data professionals who leverage Microsoft technologies to connect, share, and learn through networking, knowledge sharing, and peer-based learning." The HRSSUG is focused on Microsoft SQL Server software and the tools related to its use for all users starting with novices all the way up to experts. Join us for HRSSUG's regularly scheduled meetings every third Wednesday of every month.
We focus on connecting SQL Server professionals working in all of the major areas of data.
Our Topics
Database Administration
Business Intelligence
Design
Development
Machine Learning
Performance Tuning
Career Building & Soft Skills
This Month's Speaker :
Speaker:
Anders Pedersen
Title "Cursors are bad, never use them!"

Abstract : How many times have you been told this by your senior DBAs or developers? In this session I will explore why I use cursors to solve certain problems. Discuss when they are appropriate, and when they are not.

About the speaker
Database Engineer, ChannelAdvisor

20+ years of experience with SQL Server, from version 6.0 to 2014. Funnily enough, the only certification I have is on SQL 2012, the one version I have never used.Mostly worked at medium sized companies, by choice. Was a consultant for 6+ years, working on anything from facility security systems, background checks, retail PoS systems, to major financial systems.Passion for performance, and teaching people easy ways to better SQL performance.
Signed up for SQLSaturday VA Beach Yet? FREE TRAINING! Check it out!

https://www.sqlsaturday.com/839/EventHome.aspx
PRE CONS are AVAILABLE!
Thanks to our Sponsors!