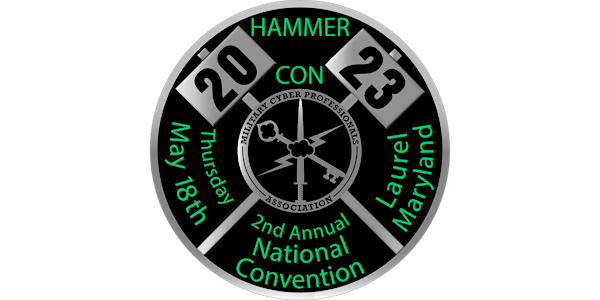 HammerCon 2023: 2nd Annual National Convention of the MCPA
Learn, network, and have fun with America's military cyber professionals and those dedicated to supporting them!
By Military Cyber Professionals Association
Date and time
Thursday, May 18 · 7:30am - 7pm EDT
Location
Capitol Technology University 11301 Springfield Road Laurel, MD 20708
About this event
11 hours 30 minutes

Mobile eTicket
***This is for In-Person Attendance Only. No need to register for remote viewing.***
HammerCon is the national convention of the Military Cyber Professionals Association (MCPA) and serves as the premier gathering of/by/for the American military cyber community.
This year's theme is "Understanding our PAST to succeed in the PRESENT and shape the FUTURE". With the 25th anniversary of the establishment of the "first cyber command" (Joint Task Force-Computer Network Defense (JTF-CND)) this year, it is a great time to reflect on how far the military cyber community has grown and what lies ahead!
So many speakers, exhibitors, and activities! MCPA members and US military attend for FREE. Find more details at the event site here. Sponsor and exhibitor info here. See pics/vids/info about last year's event here
Registration opens at 0730 (US eastern), opening remarks at 0830, all tracks open at 0900, lunch available at 1130, awards and closing remarks at 1630, and networking reception at 1700 (all attendees invited). A detailed agenda will be posted on the event site, HammerCon.org.
Planned Activities: similar scope as last year, but more!
3 Tracks: main, academic, and commercial
Villages: IoT Village, Lockpick Village, and Career Hacking Village
Exhibitors: info tables from orgs across this community and beyond
Career Services: cyber career field managers, units and orgs that are recruiting, and more
VIP Lounge
Consumables: food, drink, and other free stuff
All pre-registered HammerCon attendees are also invited to the pre-HammerCon Social at DreamPort on Wednesday 17 May 2023. There are currently no other official/authorized HammerCon pre-parties or after-parties.
Risk mitigation procedures will be in effect and all ticket purchases are subject to verification. Receipt of e-ticket does not guarantee event admittance. All attendees subject to standards of professionalism. As with all MCPA events, we reserve the right to revoke any ticket for any reason at any time.
About the organizer
The Military Cyber Professionals Association (MCPA) is a 501(c)(3) educational nonprofit charity made up of thousands of members dedicated to developing American military cyber professionals and investing in the nation's future through science, technology, engineering, and mathematics (STEM) education. The MCPA organizes events large and small across the country.